I know, it has been a minute from my last blog post.  I am so so sorry, I know you all have missed me!!  Recently, my husband and I bought a house.  We are so excited to make this house a home.  Slowly, we are transforming it into our very own farmhouse that we can love for life.  I will be sharing this journey here on my blog.  So,  first I am sharing the progress in our dining area.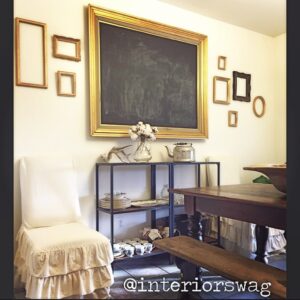 My goal as a designer is to be very budget friendly for my clients.  I apply this to my own home as well.  That is why I am known as the budget designer of the south!!  Now, let me share with you a few of my secrets!!  Do you love the metal/wood shelves??  They are from WALMART!!  I bought two to achieve the look of a buffet.  The shabby chic chair covers are from Target!  I also mixed in a few thrifty finds.  I hope this is motivating you to transform your house into a home!!  Tag Interior Swag in your posts, and we will share our favorites!!
It's all in the details!