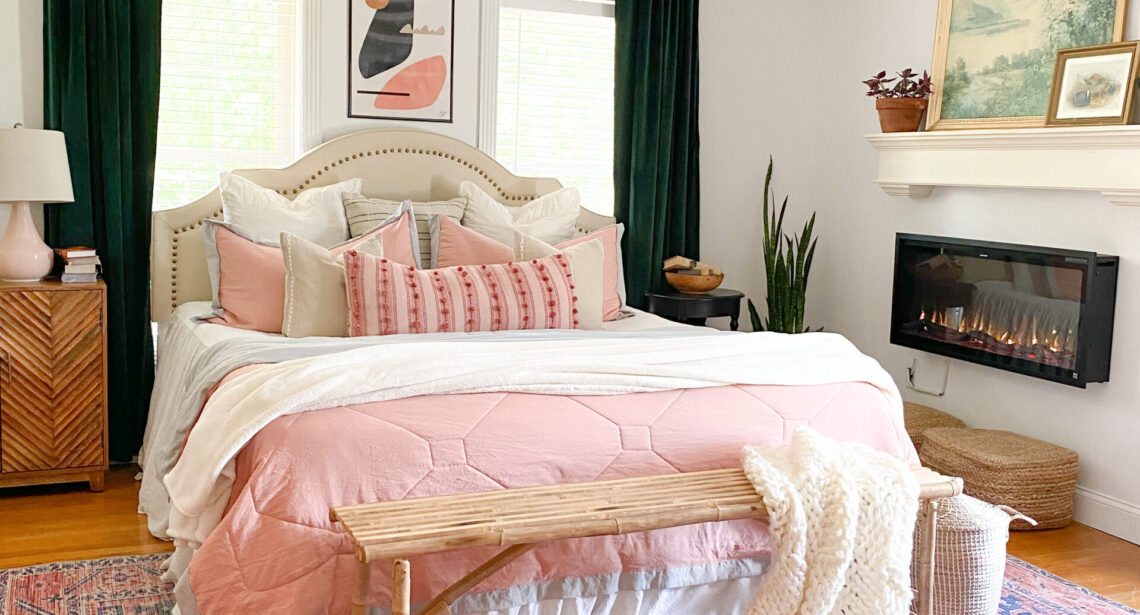 An easy way to level up a space!
..
-this post is sponsored by Modern Blaze. The opinions are my own.
-this post contains affiliate links. Doesn't cost you any more or any less to use these links.

Today I am going to share an easy way to bring a little coziness to any space in your home. We wanted to level up our master bedroom space, keeping our small budget in mind. Before I dive in too much let me start with a before shot of the space: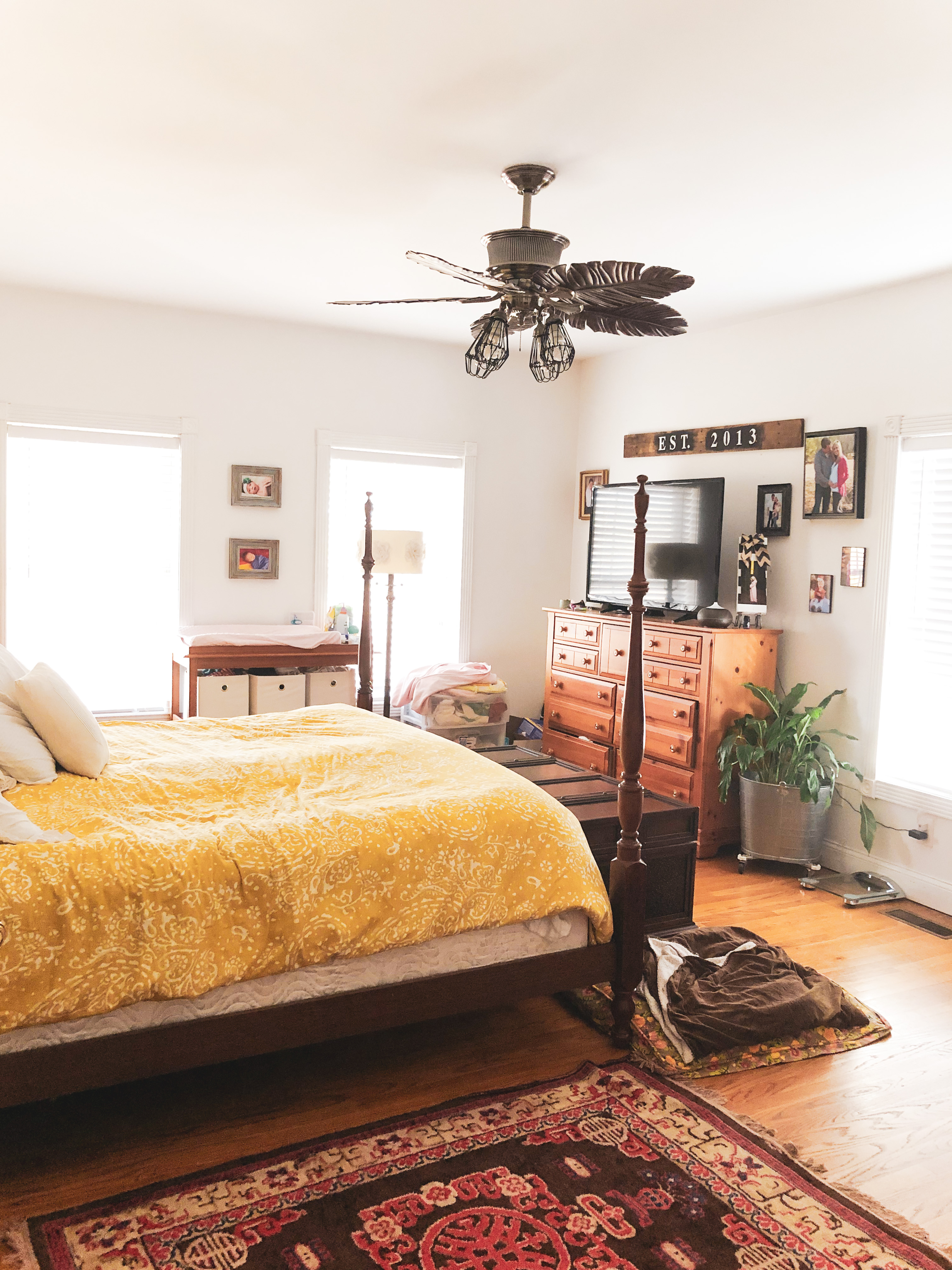 Since this photo, we've space planned a bit, moving our bed center the two large windows. We Facebook marketplaced this existing bed and traded for an upholstered transitional bed. Let me share another more updated room view before I talk about how to add coziness to your space: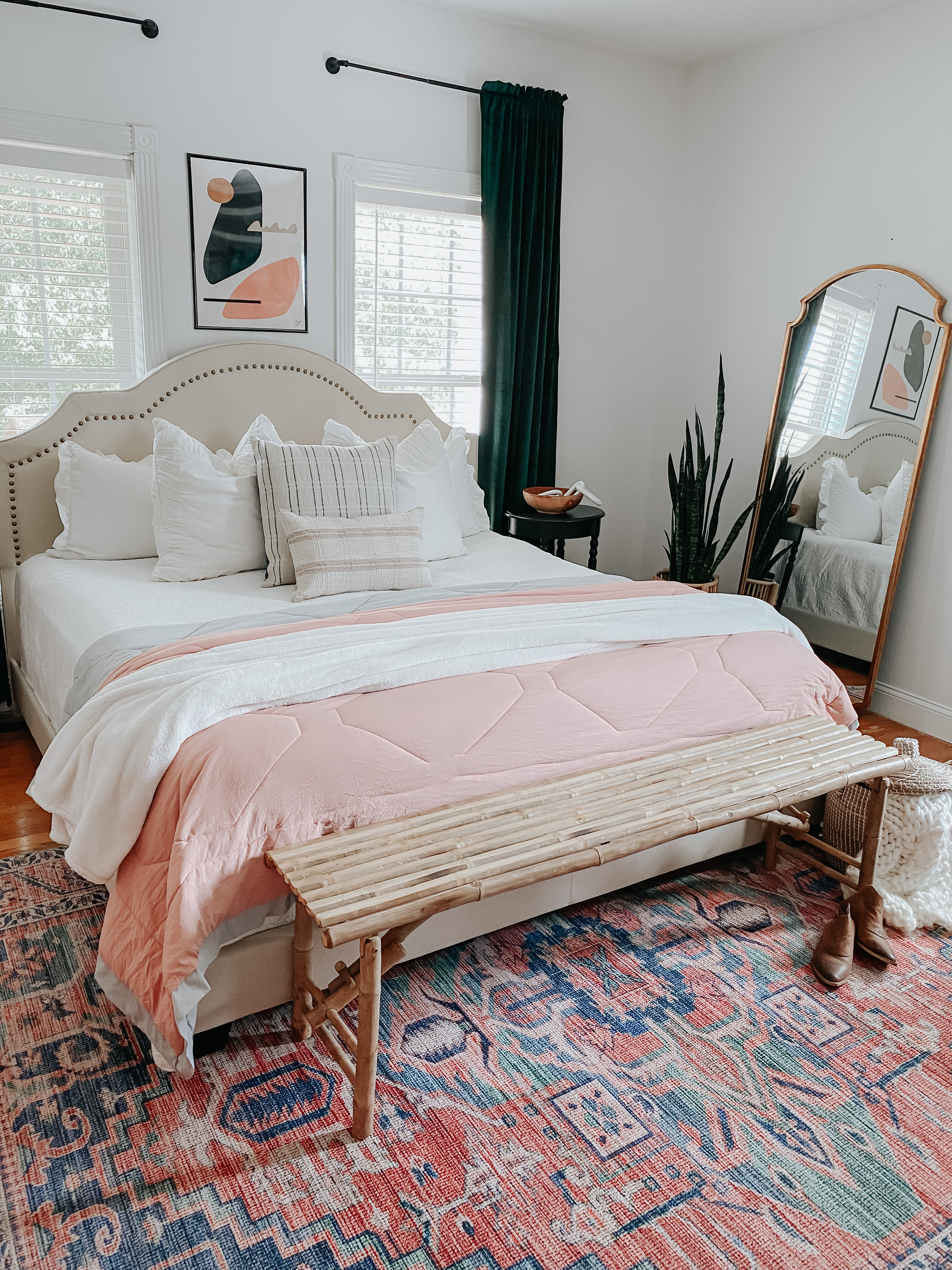 Now that you have a feel of the space, I want to chat about the feeling of "something is missing in here". The first few questions I ask my clients are:
Do you have a rug to anchor the space? Do you have curtains to soften the space? Is your furniture updated? Do you have too many things on the walls?
Sometimes even with all of these boxes checked it can still feel boring or stale. We decided to add a wall mounted electric fireplace and a mantle in our master bedroom to add coziness to our space. We did this in our living room last year and loved the look and feel so much we decided to add a unit in our master bedroom. If you are interested in seeing our living room space and how that unit looks in the room, click here.
We chose the Touchstone 42" sideline elite wall mounted electric fireplace from Modern Blaze. We love this unit because it is sleek, you don't have to recess into the wall for install, it's a smart fireplace and connects to Alexa, and we love the different options.
Below is a photo of how we decided on what size our space needs: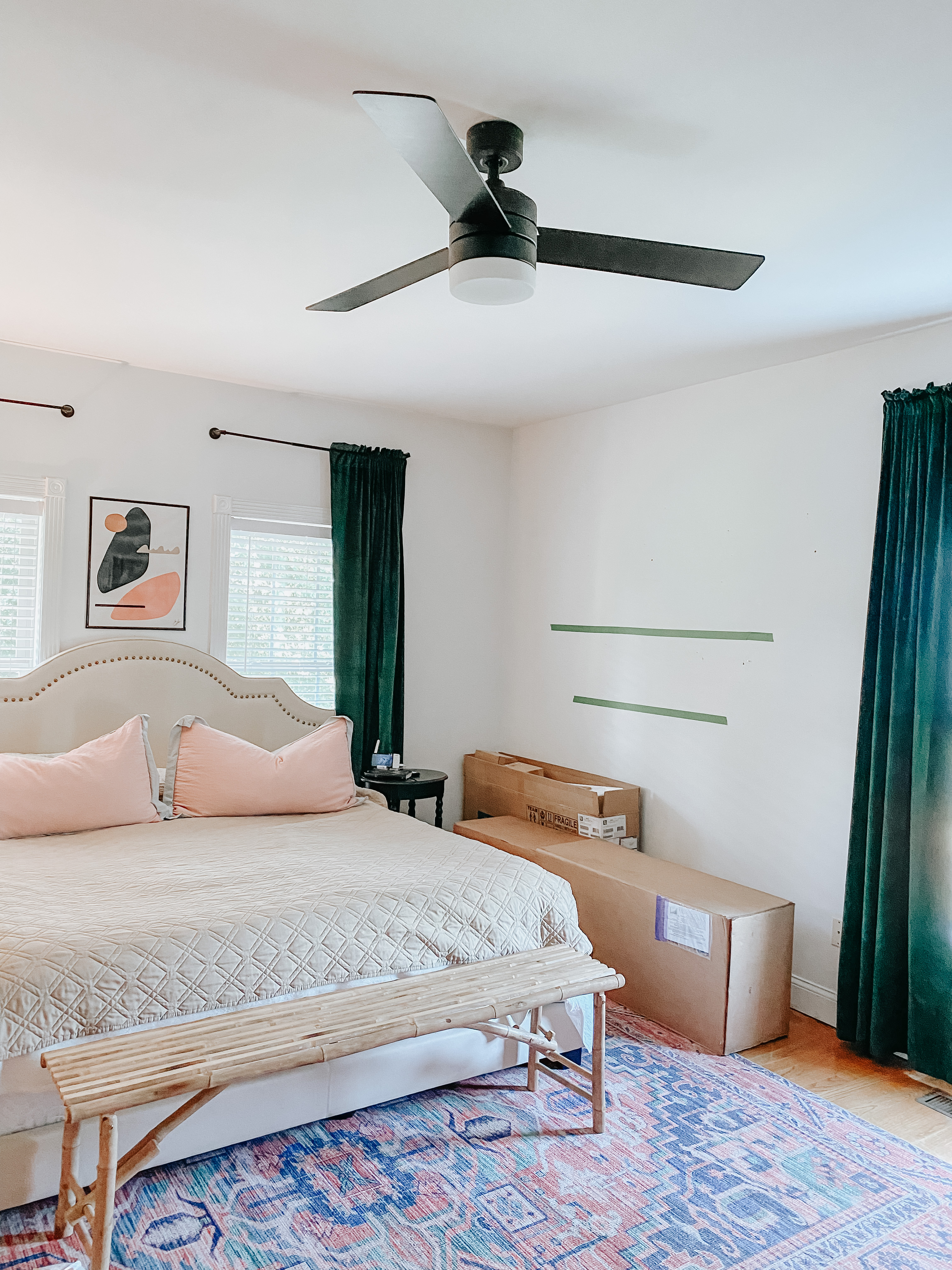 We measured the whole wall and used painters tape measured out to determine what size unit + mantel we will need. This is also a great way to get a good visual of the scale and what it will look like.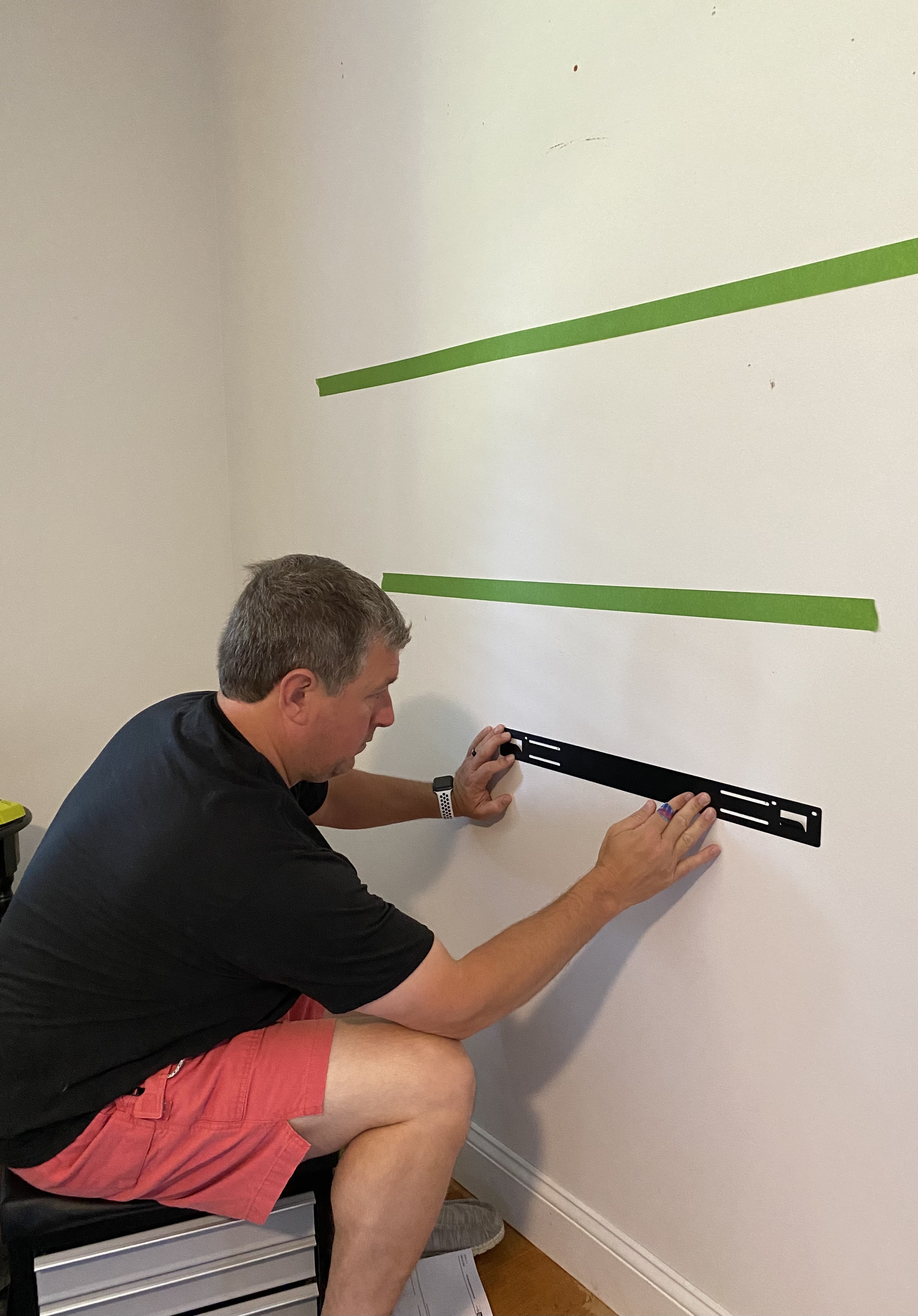 This unit is so easy to install. We centered the mounting piece up, found the stud, and secured it into the wall. (By "we" I mean my husband)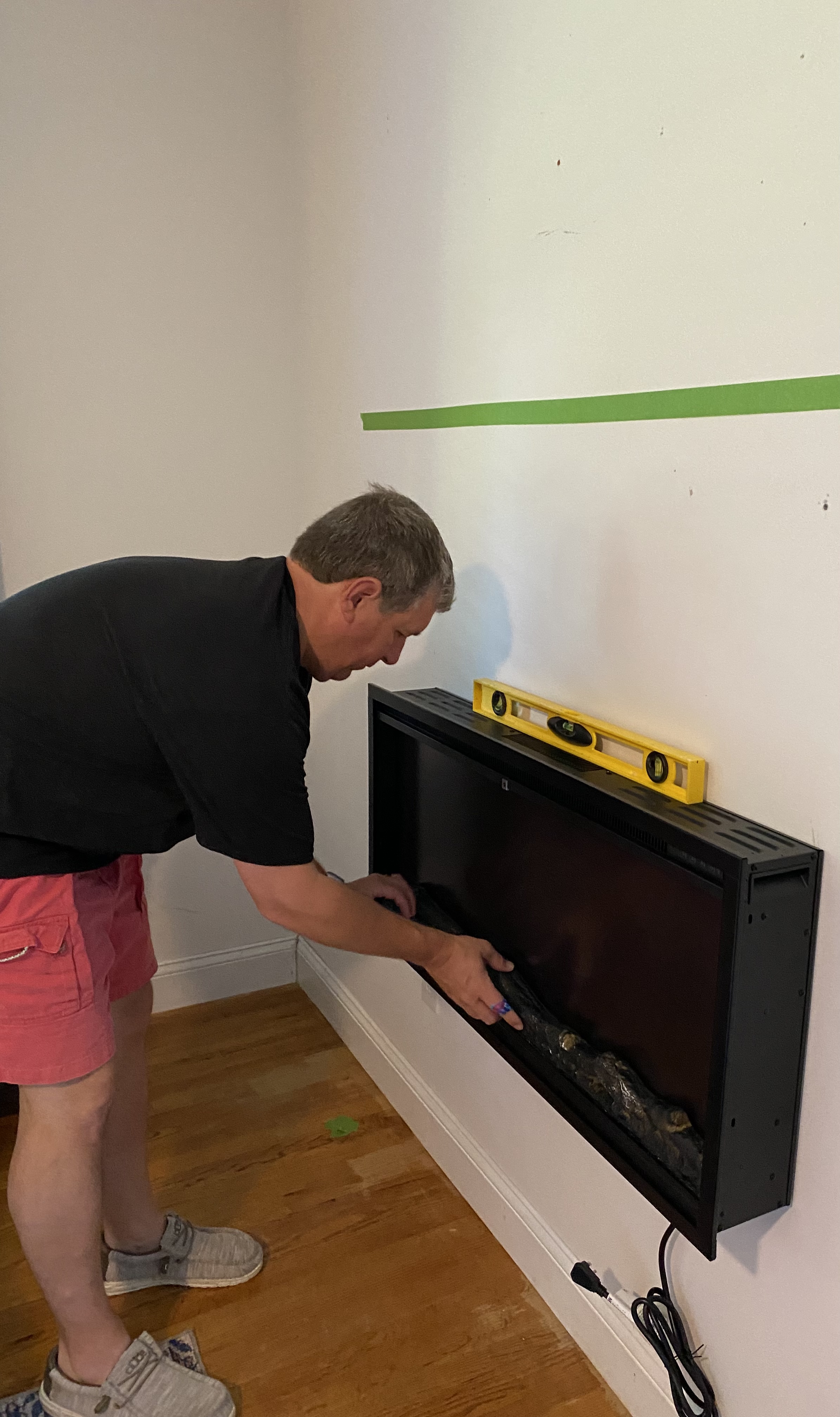 After you secure the mounting bracket (make sure you use a level), you sit the unit on the bracket to secure. Add the glass back in and secure then you are done!
The next part I'll discuss is hiding the wire since we decided at this time not to recess or build a recessed box around the unit. I'll share some pictures so you can see what I mean: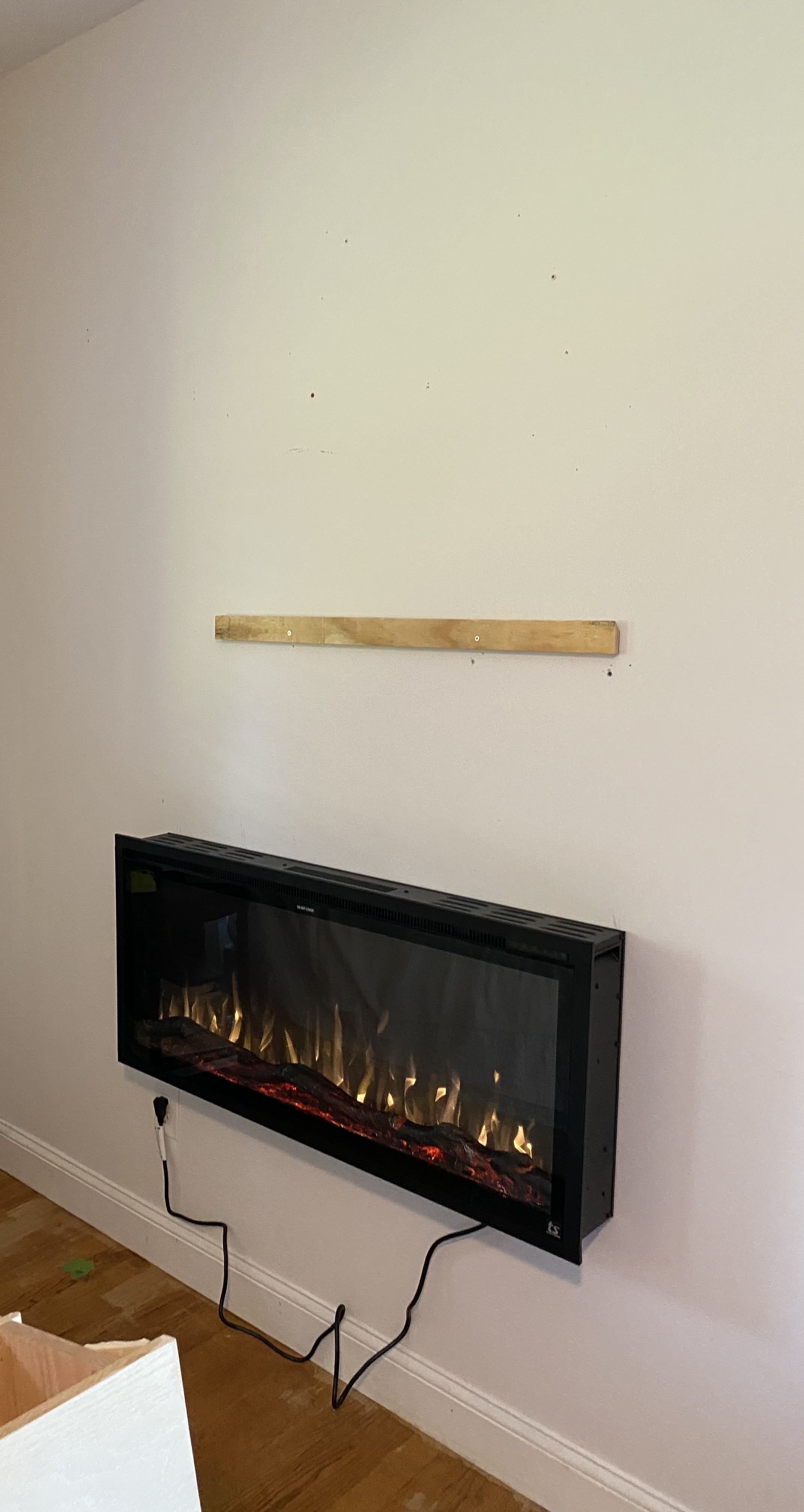 Obviously the better option would be to build a frame for the unit, but this way works best for us now.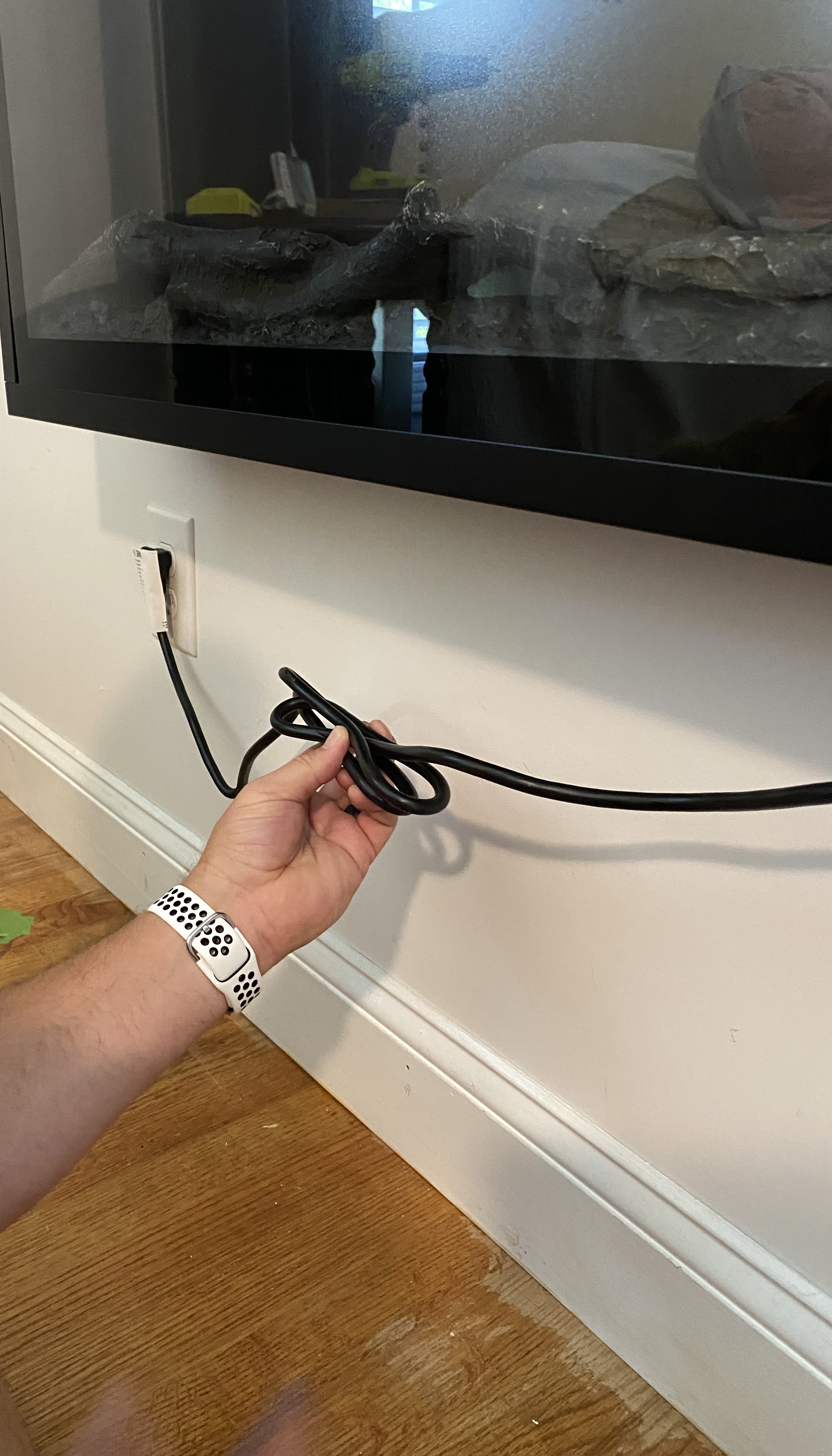 He secured most of the wire on the underside of the unit.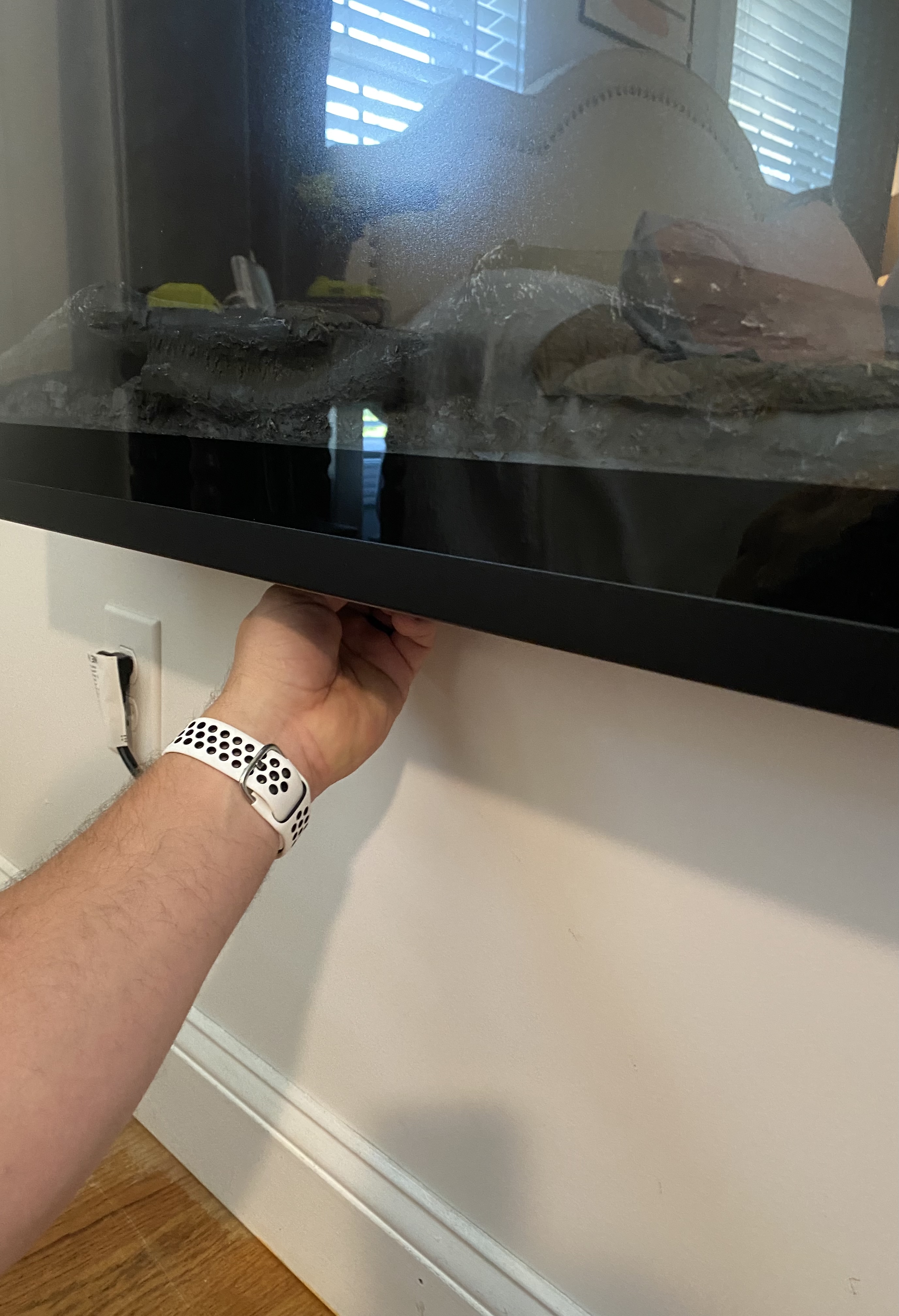 He secured the wires tight with a zip tie.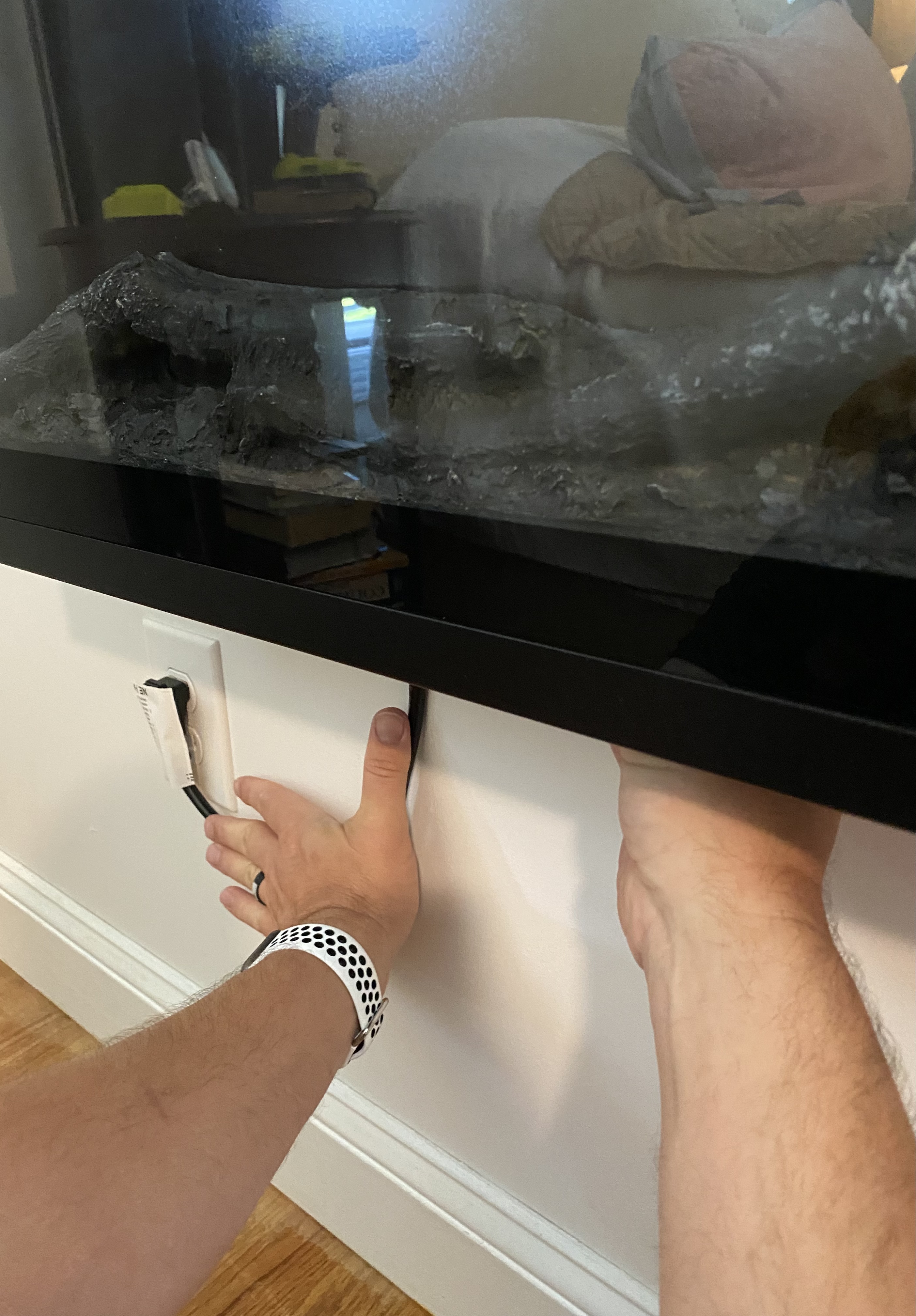 With only a small portion to conceal, we decided to use a paintable cord concealer to "hide" the cord.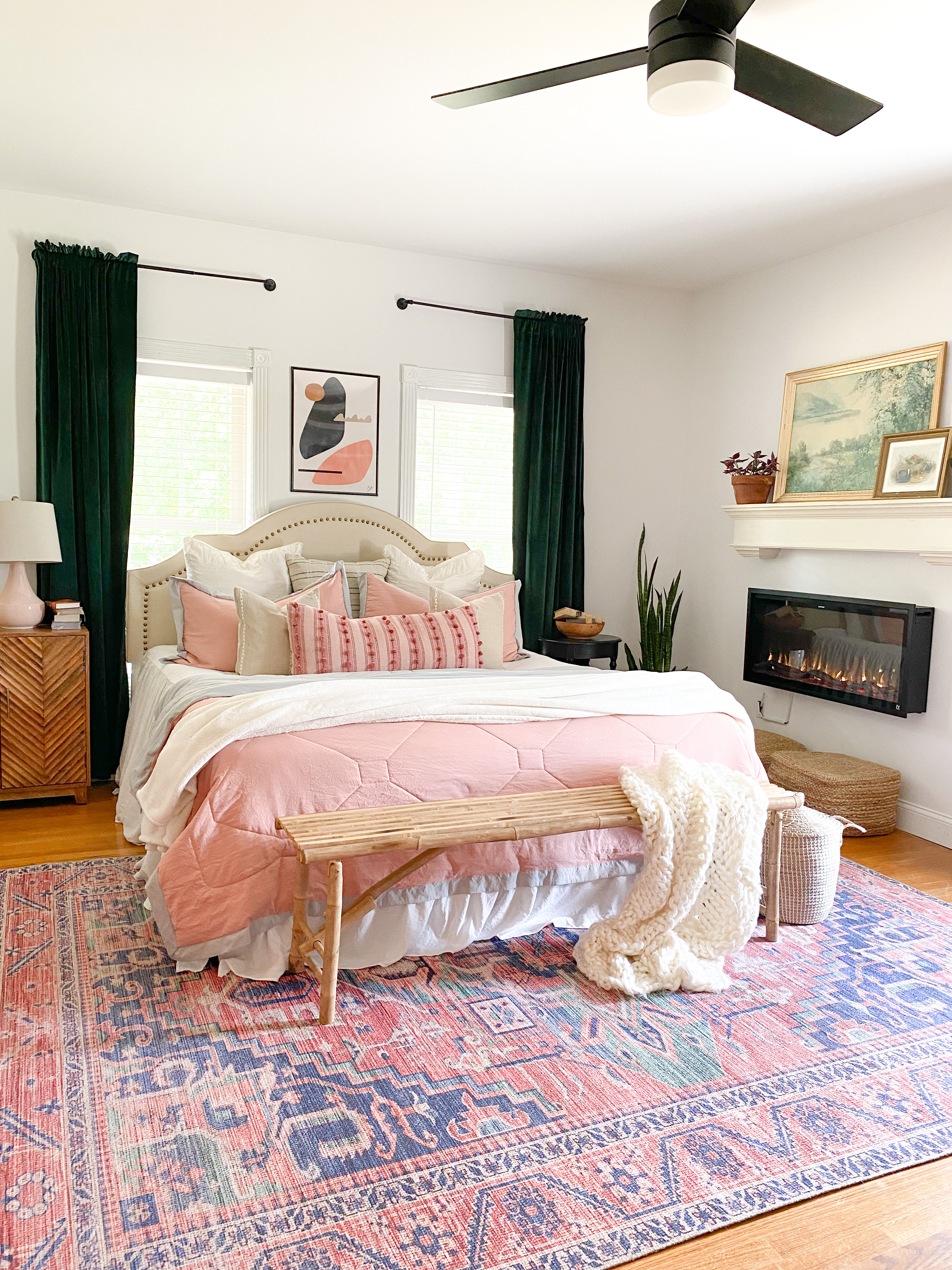 Here is the after view. We also chose a mantel from Modern Blaze as well. Our mantel is by Ornamental Designs, 60″ Bayview style in antique white. It is more of a transitional piece and could fit in any interior. It is solid, well made, great quality. Most of all for us, since we are not avid do it yourselfers, the install for both the fireplace as well as the mantel was a breeze. Check out or instagram stories/saved highlights on the close up detail on install of both items. Modern Blaze is offering you guys 10% off both products, use code SWAG10.
Let me know what you think about the products we chose for our space in the comments below.