Sorry I'm just getting around to sharing this transformation of our kitchen with you guys!  A few weeks ago my sweet husband set aside his whole vacation week to help me paint our kitchen cabinets.  We took a quick trip to The Home Depot and got literally everything we needed to use.  Here's a list:
a good degreaser, paint, paint brushes, 4″ high density rollers, painters tape and plastic.
I guess I spent most of my time prepping our cabinets.  I used murphys oil soap, a toothbrush, and a bigger brush to really scrub and clean our cabinets.  Then came the tapping.
We ended up using Behr Marquee semi gloss paint.  The color we chose: Classic Silver.  What I love about this paint is its only one coat!  Primer and finish all in one.  AND no sanding!  We went ahead and put on 2 good coats, but that's it.  We left the doors on.  Only because we have hidden hinges and they swing out far enough for us to paint what you cannot see.  My suggestion would be to remove the doors.
Ok lets get to the fun part!  The pictures:
Before: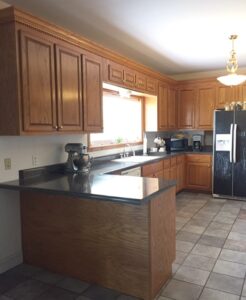 After!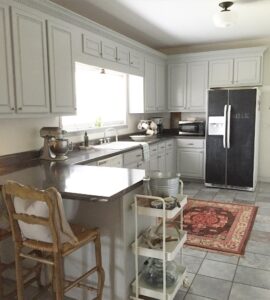 We love how the light color brightens up the space.  Remember the kitchen is the heart of the home!
Thank you for stopping by!