I thought it would be fun to let you guys follow along on this commercial office space project so I am sharing a few of the idea boards with you.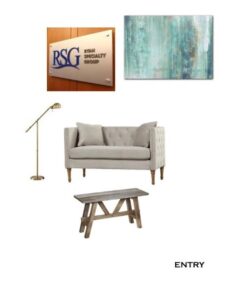 My client request only a few decor items for the entry space.  I am proposing a large logo sign above the secretary desk, a tufted settee, a small rustic bench for the coffee table, gold floor lamp, as well as some modern art.  The existing pieces are traditional pieces, but my vision is for the office to be an eclectic space.  Especially since it is a mortgage company.  I want clients to walk in and envision having some of the pieces in their own home.
Ok, moving on to the conference room: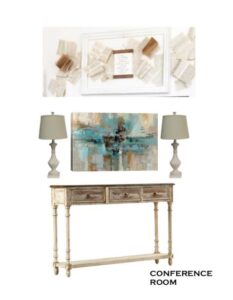 In the conference area I am proposing a long console table on one wall, with a book collage above, 2 lamps, and a few art pieces on the opposite wall.  In each space I style, I always like to put something different in each space and in here I believe the book collage would be great and a conversation piece as well!  Here is a shot of a book collage in my own home: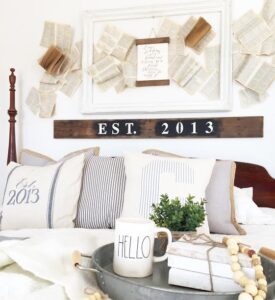 Last, I'll share the office space idea board: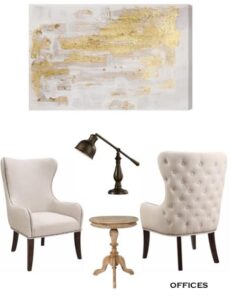 Like I said earlier, the existing desks and credenzas are traditional, so I want to update in a way each space flows, but each office is its own.  I love these wing back chairs, traditional yet modern.
Thank you for following along with one of my projects!  Enjoy your day, and the rest of the week!