…
Bedrooms should be an important space in your home.  After all, it is where you sleep, relax, and find rest.  I'm sharing some bedroom design ideas to give you some inspiration so that you can create your own serene living space.  Let's start with my own master bedroom:
Before: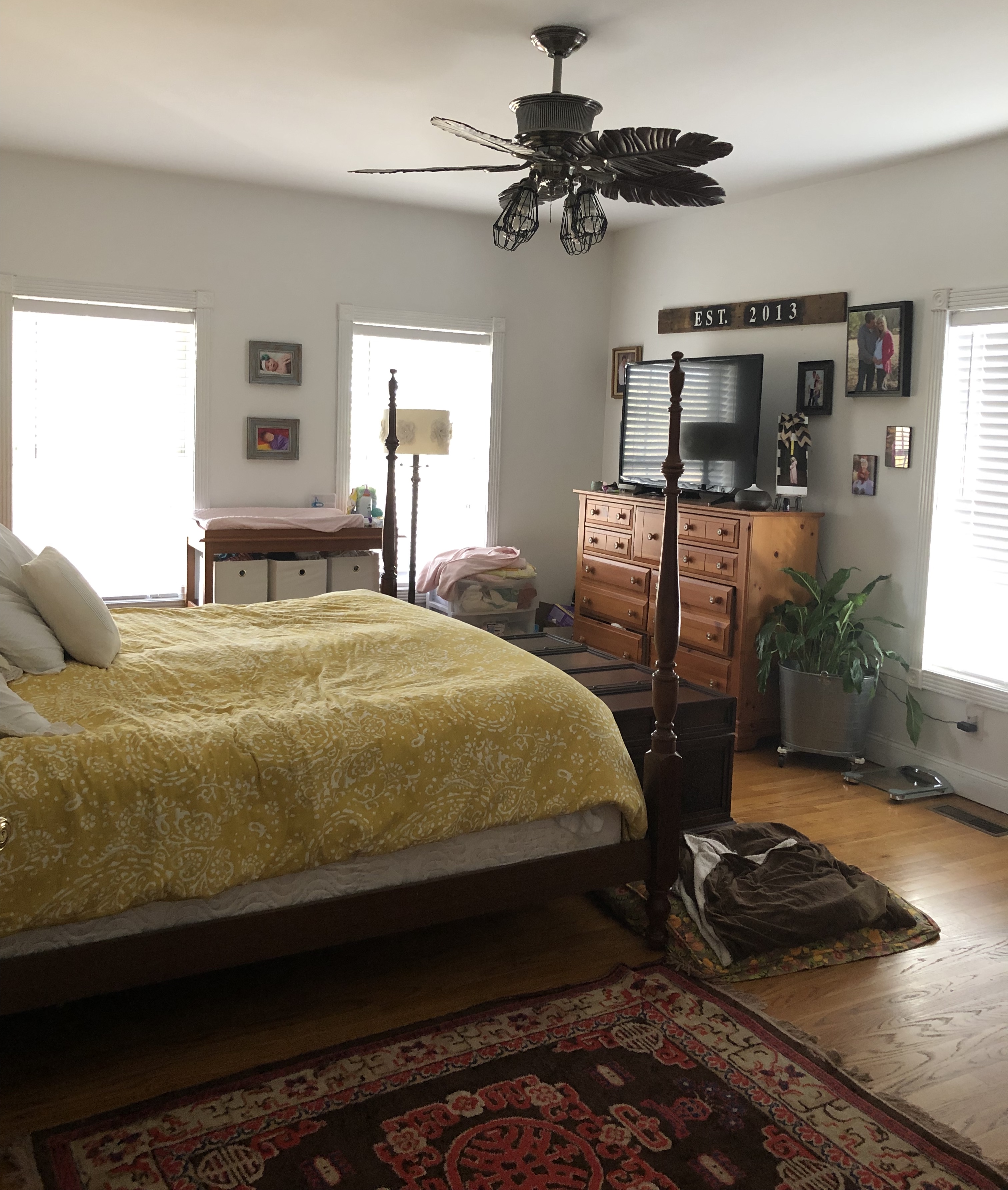 First things first, pick your bed wall/feature wall.  A good rule is to use the uninterrupted wall. Don't be afraid to put your bed against a window, or if you don't have a window frame your bed with curtains to make a statement.  The goal here, your bed wall is the focal point of the space.  You can see the back wall with two large windows in my before shot clearly is the wall my bed should be on.  We did a little switch and swap in here and moved our furniture around to fit around our new bed.  The scale of your furniture matters too.  We have a huge dresser that we use that needs its own wall space.  We also have a high boy dresser as well.  My tip is to look at your bed wall and think about your dressers/storage pieces that you need to go in your space.  
After: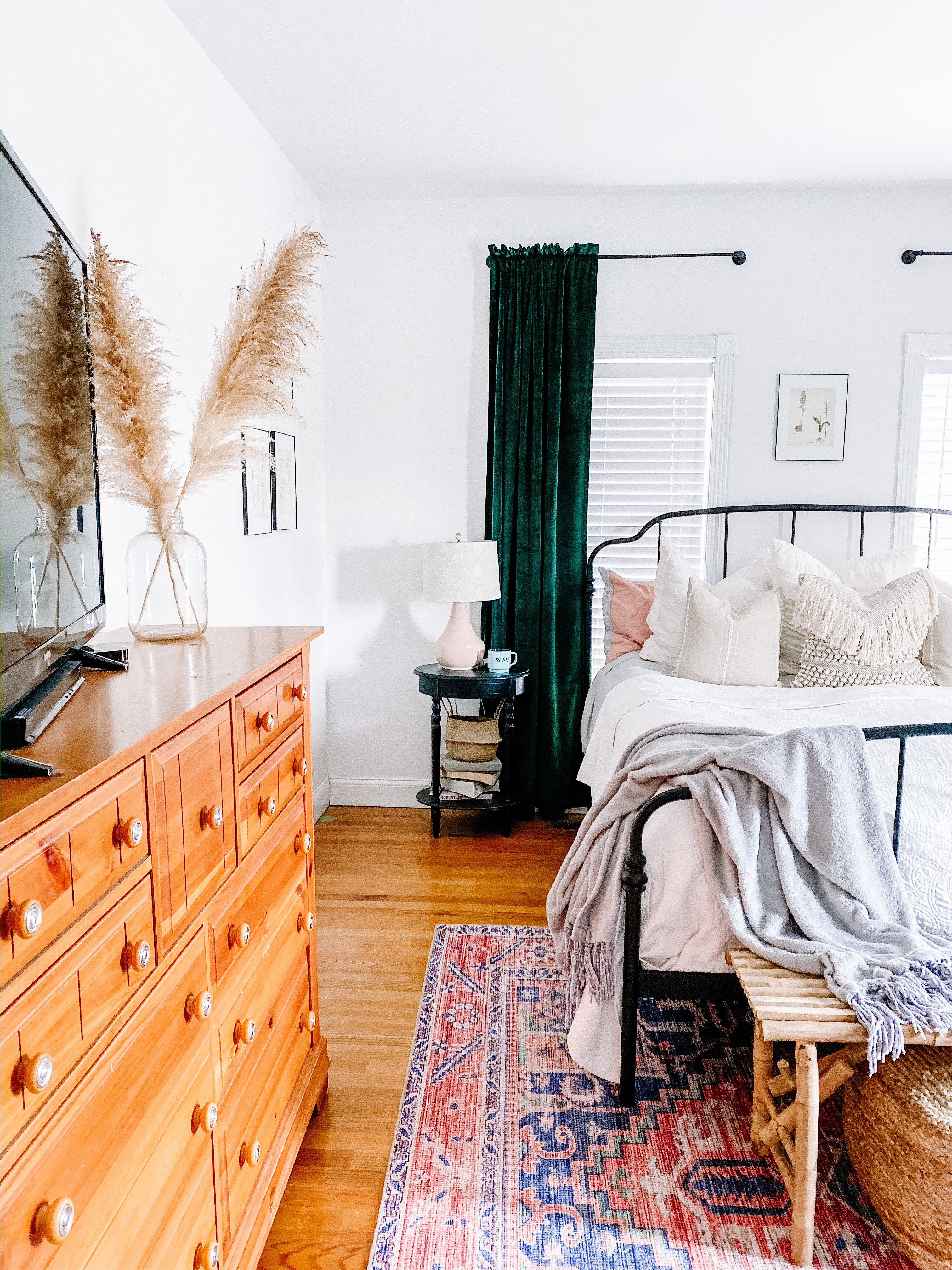 As you can see, this dresser is massive and needed its own wall!  We arranged our bed between the two large windows so when you walk in the space, it is the focal point.  Always anchor your bed with a rug.  Even if you have carpet, it is great to anchor with a contrasting color. I love how Sarah @graceinmyspace uses a contrasting rug over carpet.  She also transformed her "bed wall" into an amazing feature wall using board and batten with a fun pop of color:
Photo below belongs to Sarah, see more of her home here: @graceinmyspace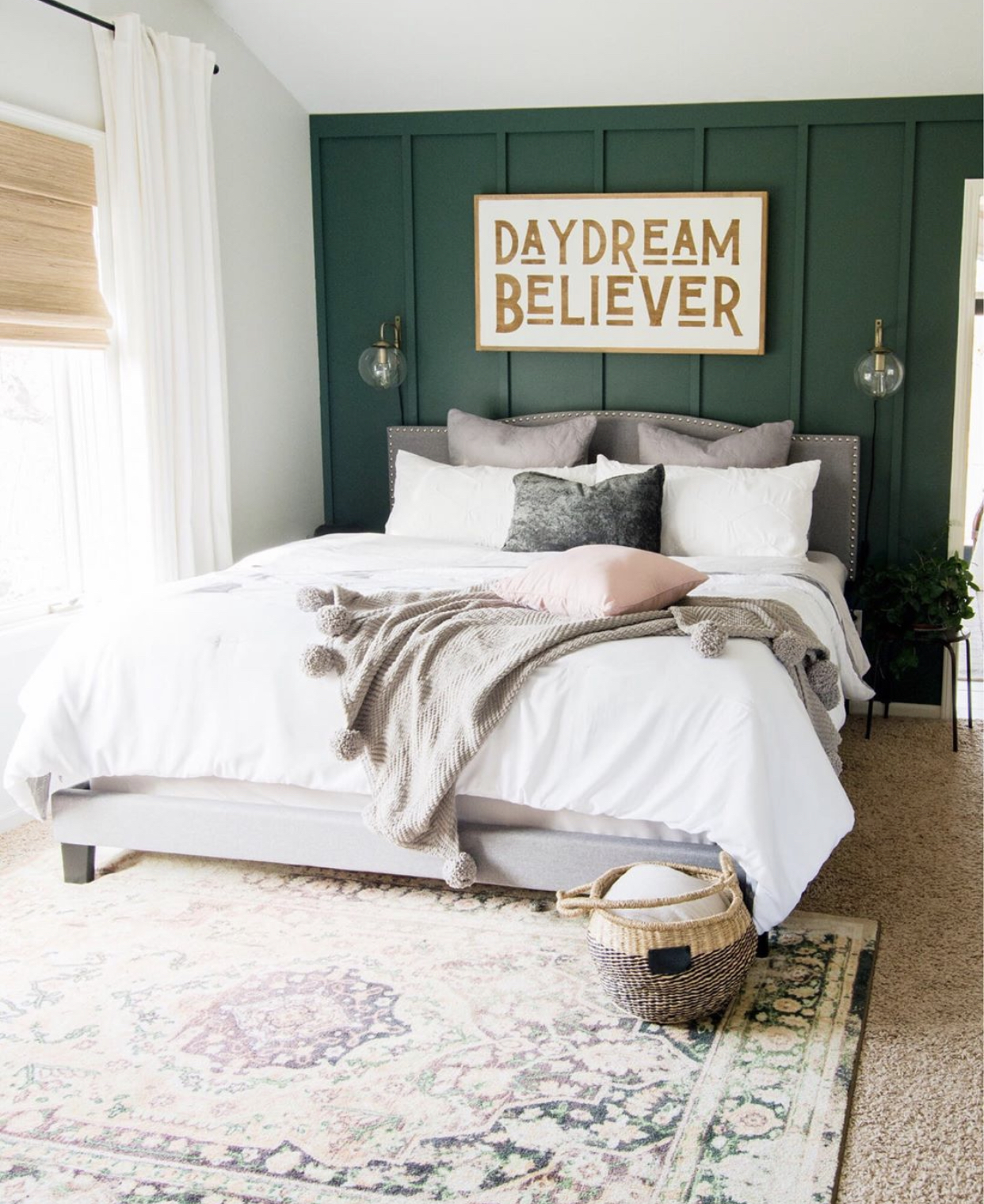 Speaking of fun feature walls I love the traditional feel of Jordan's @abluenest master bedroom.  Her bed reminds me and makes me miss our old poster bed.  I love how cozy Jordan's space feels!
Photo below belongs to Jordan, see more of her home here:
@abluenest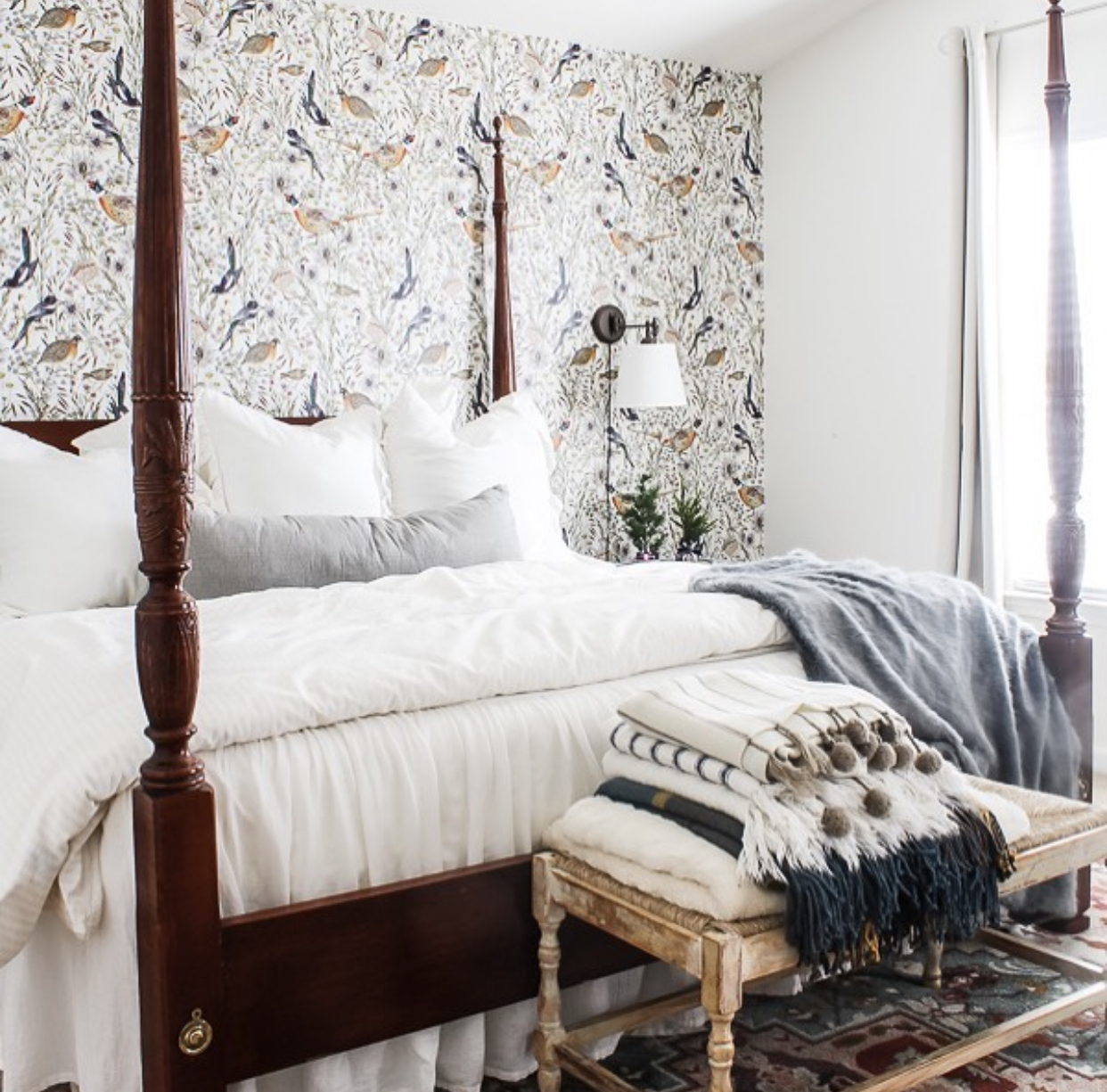 Ok, if you crave simplicity and are more of a neutral space lover, Meredith's @thegatewayhome master bedroom will sure to inspire you!  I love how she uses  layered throw pillows and a tassel throw to add extra coziness to the room.
Photo below belongs to Meredith, see more of her home here:
@thegatewayhome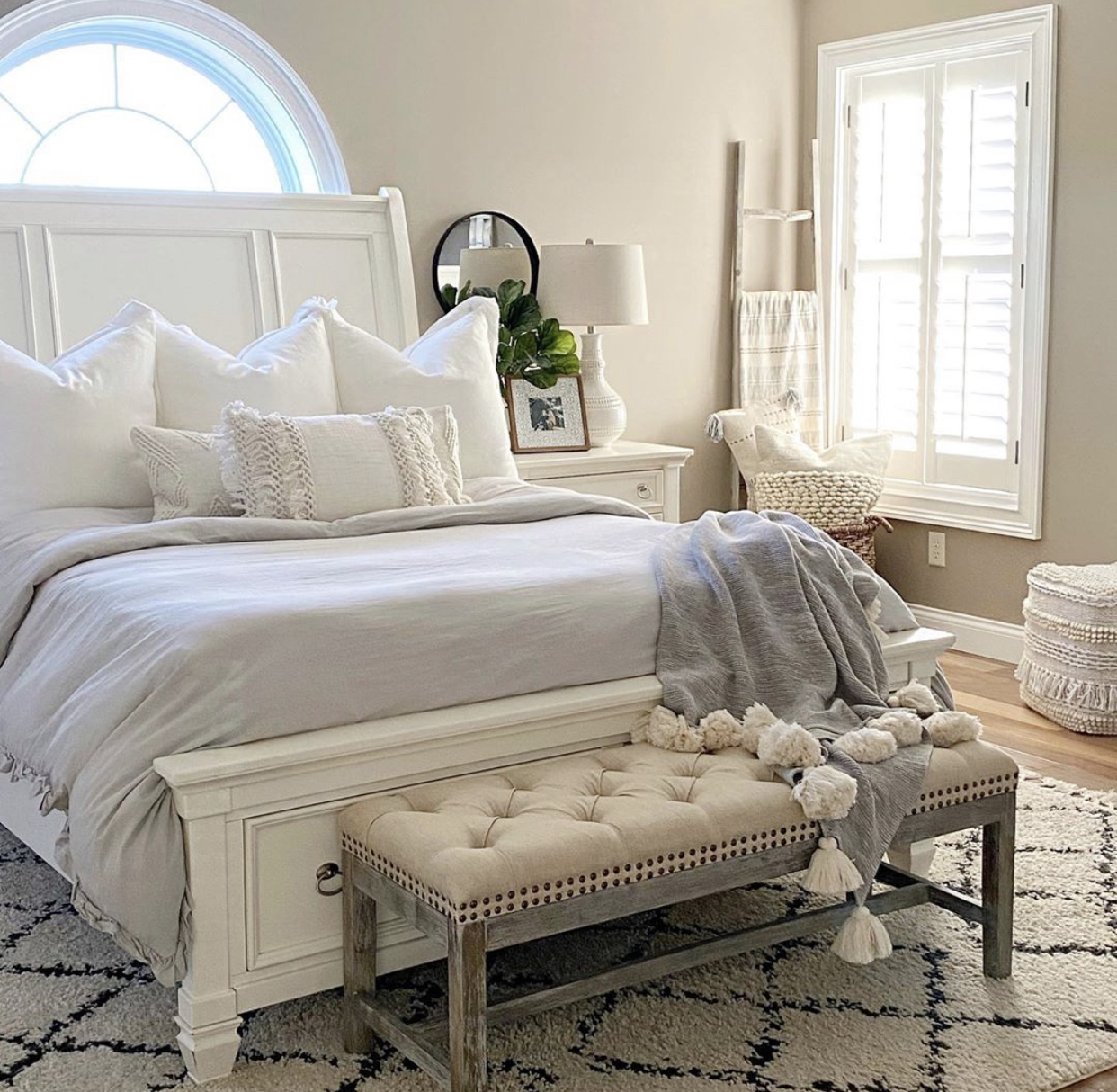 I hope these easy tips inspire you to create a haven for yourself because you deserve it!  Please share your space with me!  If you are interested in a few tips on living spaces, click here.

Shop my favorite bedroom decor that I'm loving right now below. ••the links below are affiliate links!  Doesn't cost you any more to buy from the links below.
[show_shopthepost_widget id="3893552″]