Halloween Decor + Diy craft and baking with Dollar General
…
This post is sponsored by Dollar General. The opinions are my own.
I am looking forward to sharing all things Halloween from our local Dollar General.  We chose to go the non spooky route since we have young girls. You can still make Halloween a lot of fun if you chose to decorate your home this way.  Although, our local Dollar General has loads of scary, spooky stuff too.  The first thing I always do to make my shopping experience easy is check the DG App for the weekly coupons.  If you don't have the app, download it.  It's FREE!  On Saturdays DG offers $5 off of your $25 purchase.  I typically add the items I'm shopping for to my shopping list via the app.  It shows what items have $1 off as well.  It adds to your coupons and you just enter your phone number at checkout.  It's so easy.  I started my Halloween shopping a little early this year.  To make sure everyone is celebrating Halloween this year safely, Dollar General has themed PPE including face masks and coverings so check your local stores!  DG is my Halloween headquarters for sure from indoor + outdoor decor, to candy, costumes and food.  Let me share a few fun ways to get in the Halloween spirit with your kids.  First, we will do a little craft.  I grabbed this assorted color construction paper to make diy bats to use for my outdoor decor.  This is a fun way to get your kids involved in helping decorate.  Here's what I used for this fun DIY: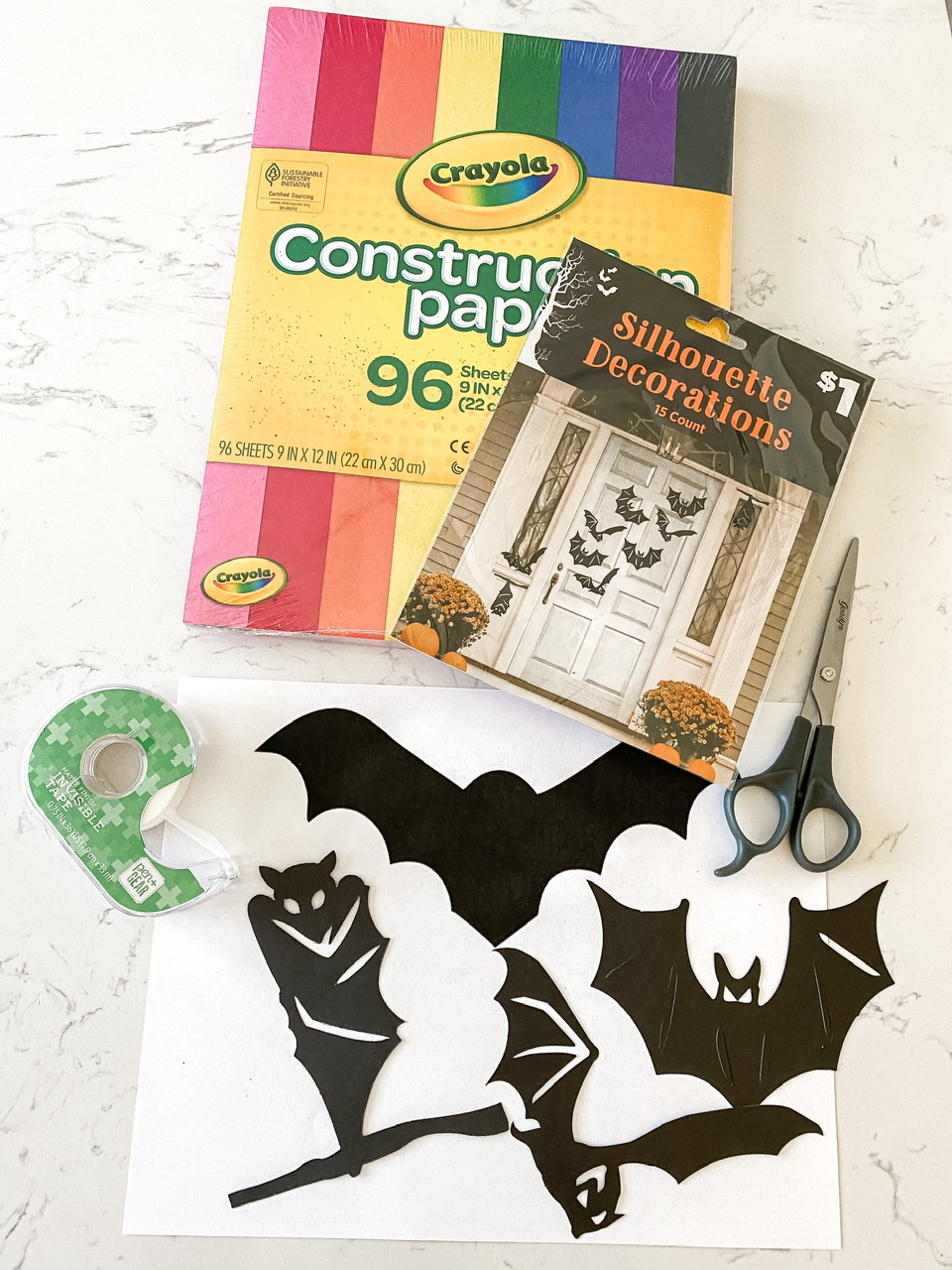 I grabbed this silhouette bat set for $1.  I also printed a template for the girls to trace on to the construction paper.  They picked their favorite colors and traced the bats.  Then we cut them out.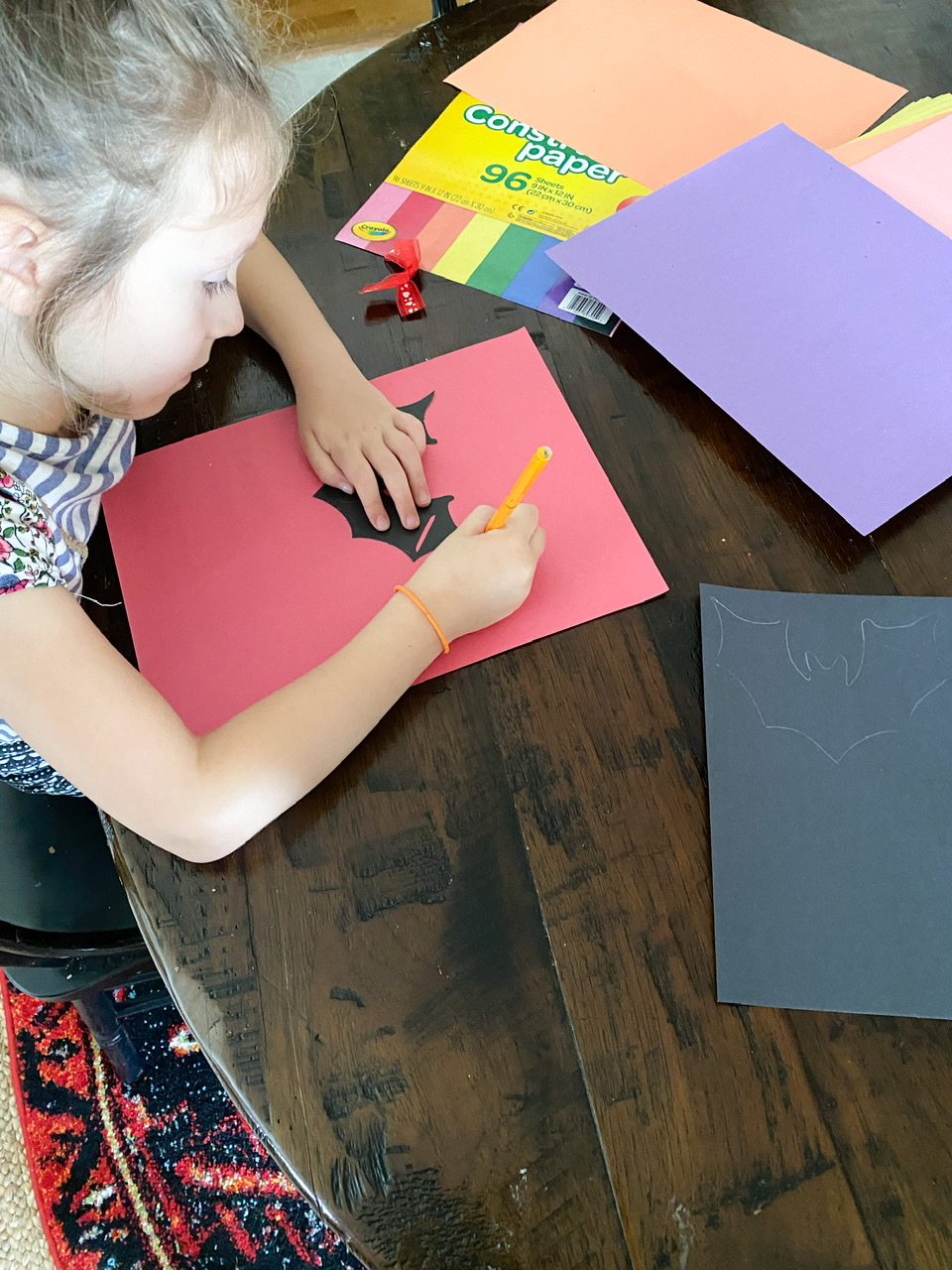 It's fun getting the girls involved and letting them use their creativity to help me decorate a space.  Today we are using their bats and the other items I grabbed from my local DG to decorate our front porch for Halloween.  I got, scary creepy cloth, spider webs, a skeleton (we named her Mrs. Bones), candy bins, loads of candy, monster tongs, and more!  Look how cute our Halloween porch turned out!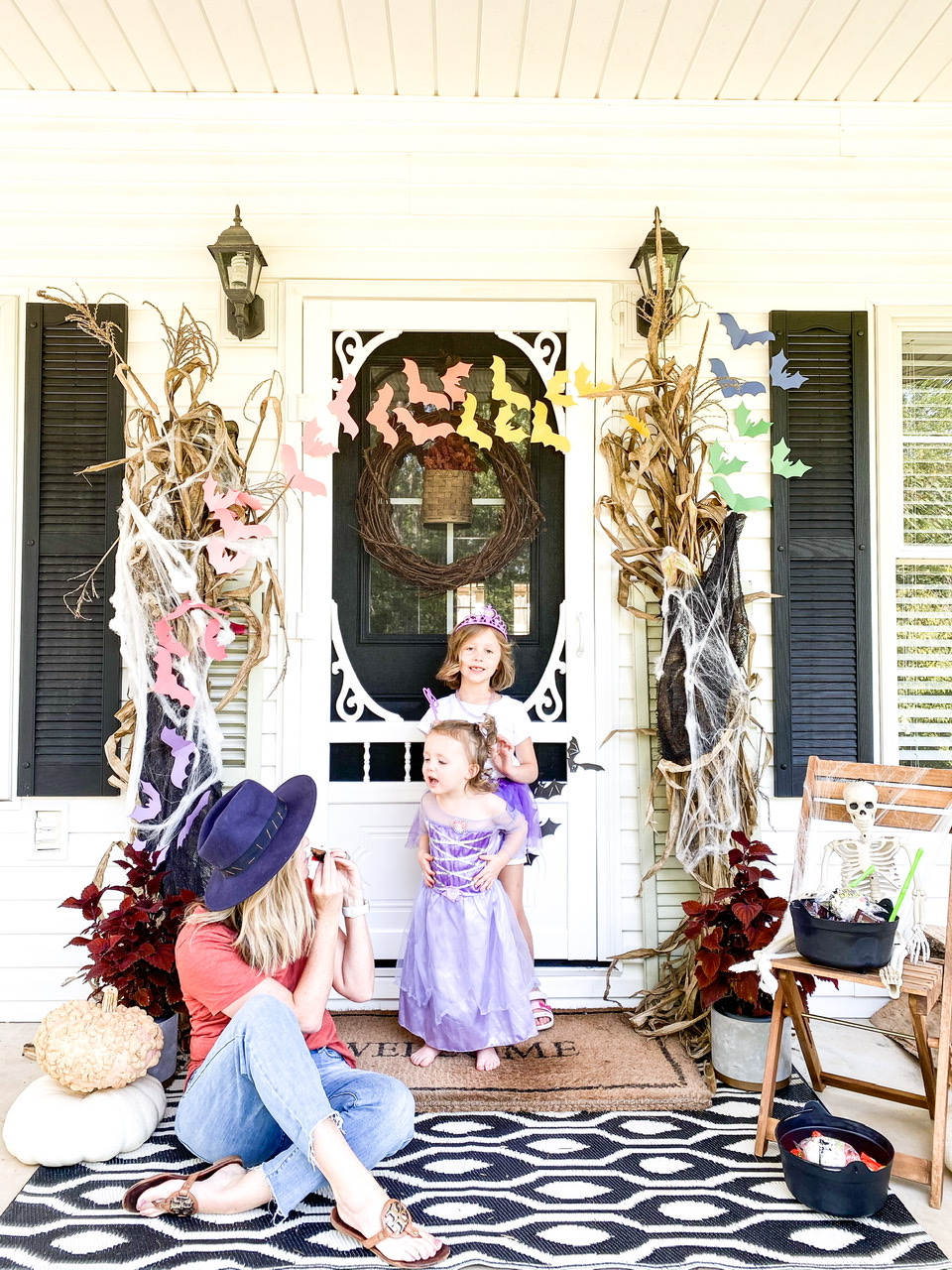 I also grabbed the girls costumes from Dollar General.  We chose the non scary route and DG has the cutest princess tutu sets for $5!  They also have dress up dresses.  My youngest loves her Rapunzal dress from DG.  We introduced the skeleton to the girls a few days ago.  We didn't want them to be afraid so we explained that they too have a skeleton inside their bodies.  We tickled their ribs, pointed at their toes, fingers and so on.  Then we let them point out the skeletons bones.  They named her Mrs. Bones.  She's now the family favorite!  Dollar General has alllllll the candy you'll need for Halloween from Hershey's, Reese's, to mini fruit roll ups we are set for candy!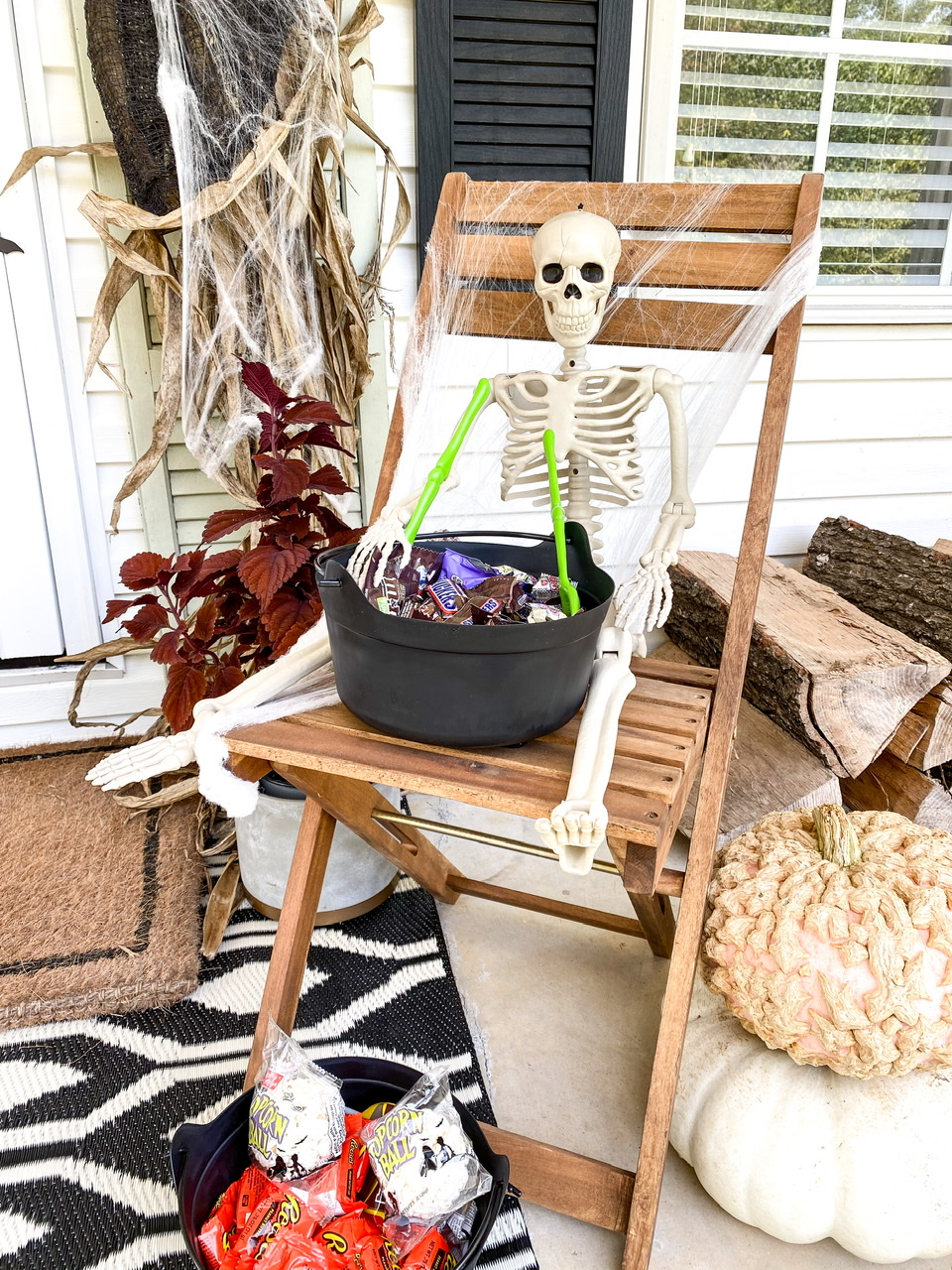 I mean, look how cute Mrs. Bones is?!?
Another way to make Halloween fun for the kids is to bake with them!  We are making these yummy clover valley chocolate chip cookies then using the mini pumpkins and the ring spiders to add Halloween vibes.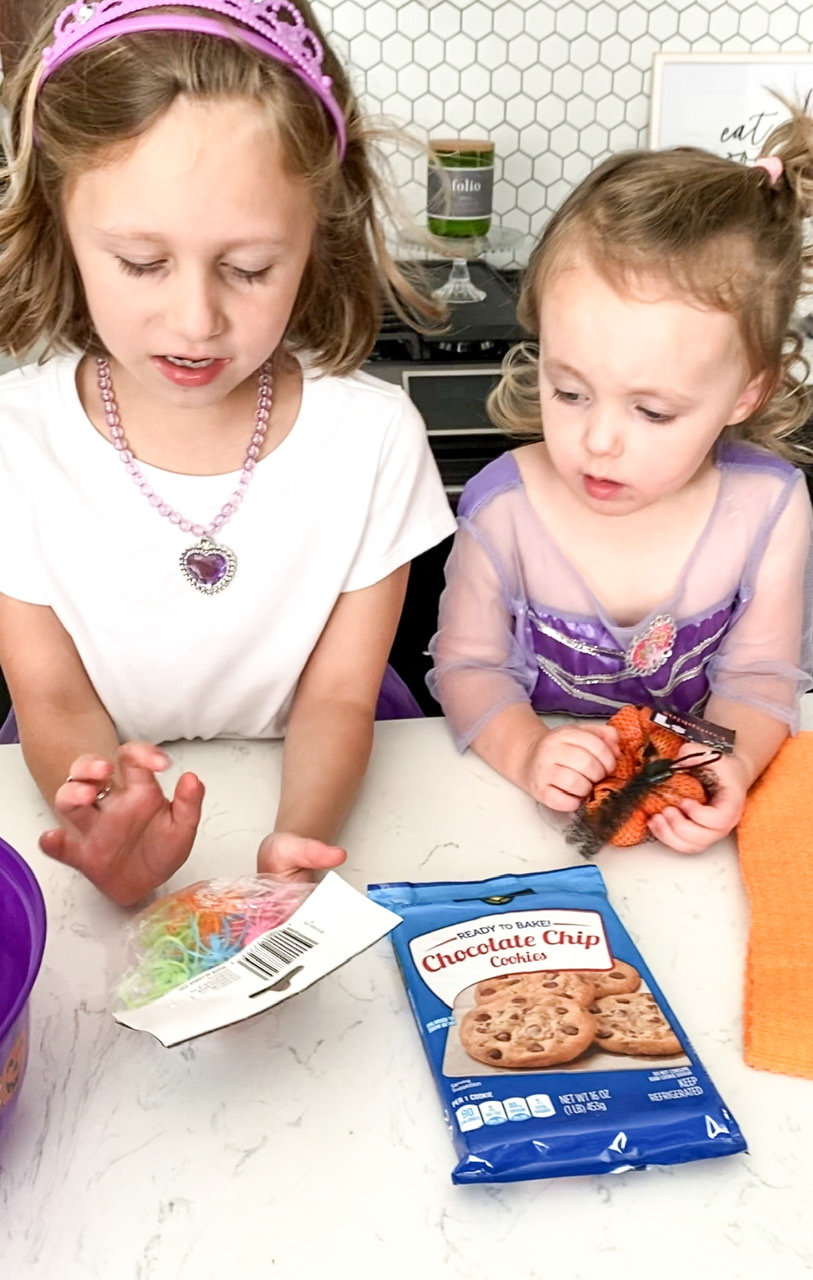 I love using the ready to bake cookies.  They are so easy.  The girls decorated the cookies using the spider rings and mini pumpkins.  They turned out so cute.  The spider rings are a great idea if you are taking sweet treats to your child's class party.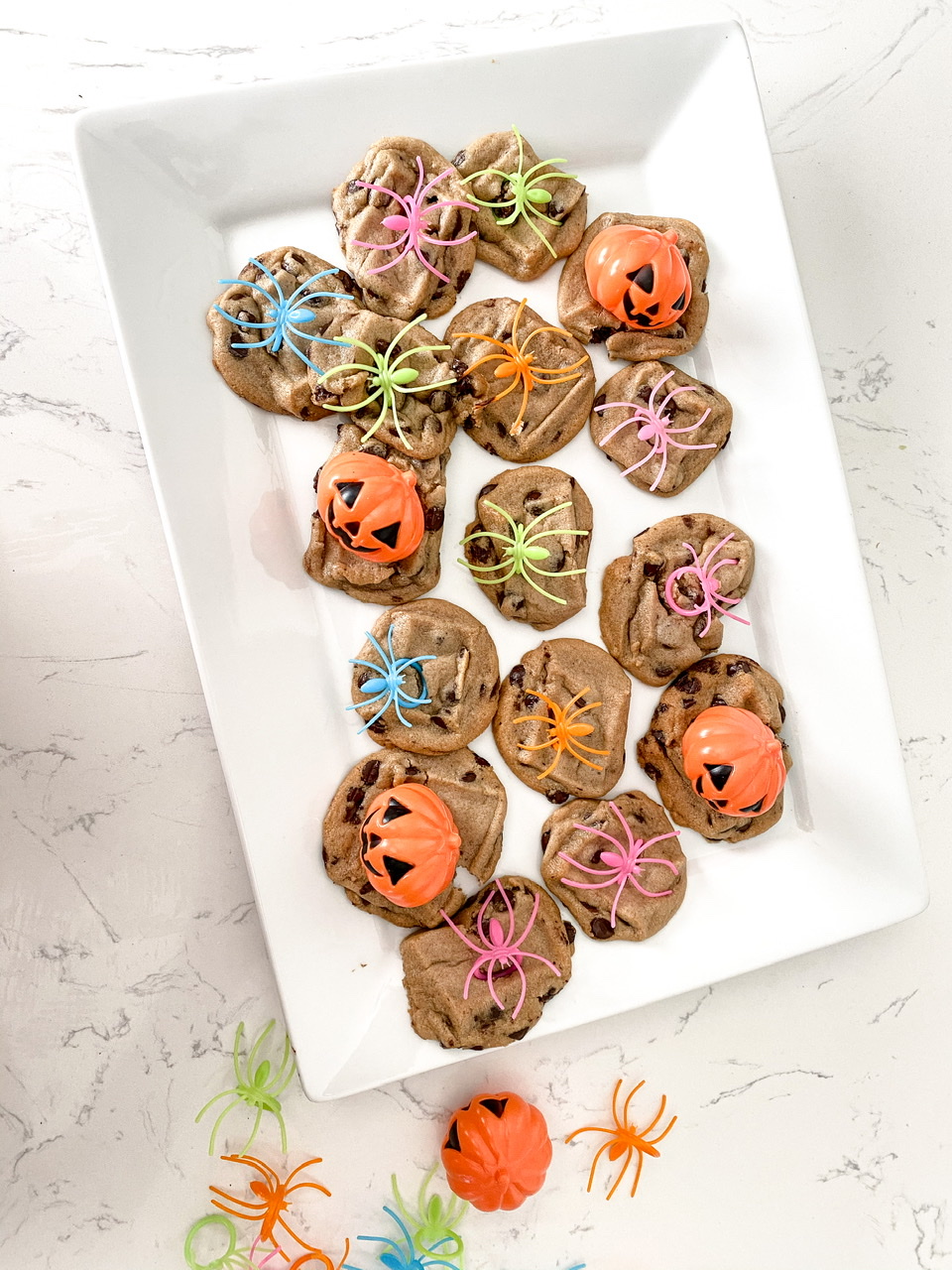 They turned out so cute!  Be sure to stop by your local Dollar General for all of your Halloween needs.  I hope you guys enjoyed me sharing how we are celebrating Halloween this year.  How are you celebrating?