Electric Fireplace before and after!
…
*Sponsored by Modern Blaze, the opinions are my own.
Ever since buying our home almost 5 years ago, we wanted to add an electric fireplace in our living room.  Adding a fireplace whether electric, gas, or wood burning adds coziness to any space.  We chose the Touchstone Onyx 50″wall mounted electric fireplace from Modern Blaze linked here.  Modern Blaze shared a coupon code for 10% off of this unit.  Use code: SWAG10 .
We are not diy people so I wanted a unit that is easy to install as well as a simple aesthetic.  Modern Blaze has several size options as well as all in one units that include the surround as well as the fireplace.  
Again, we are not professionals.  I will share a few install tips below.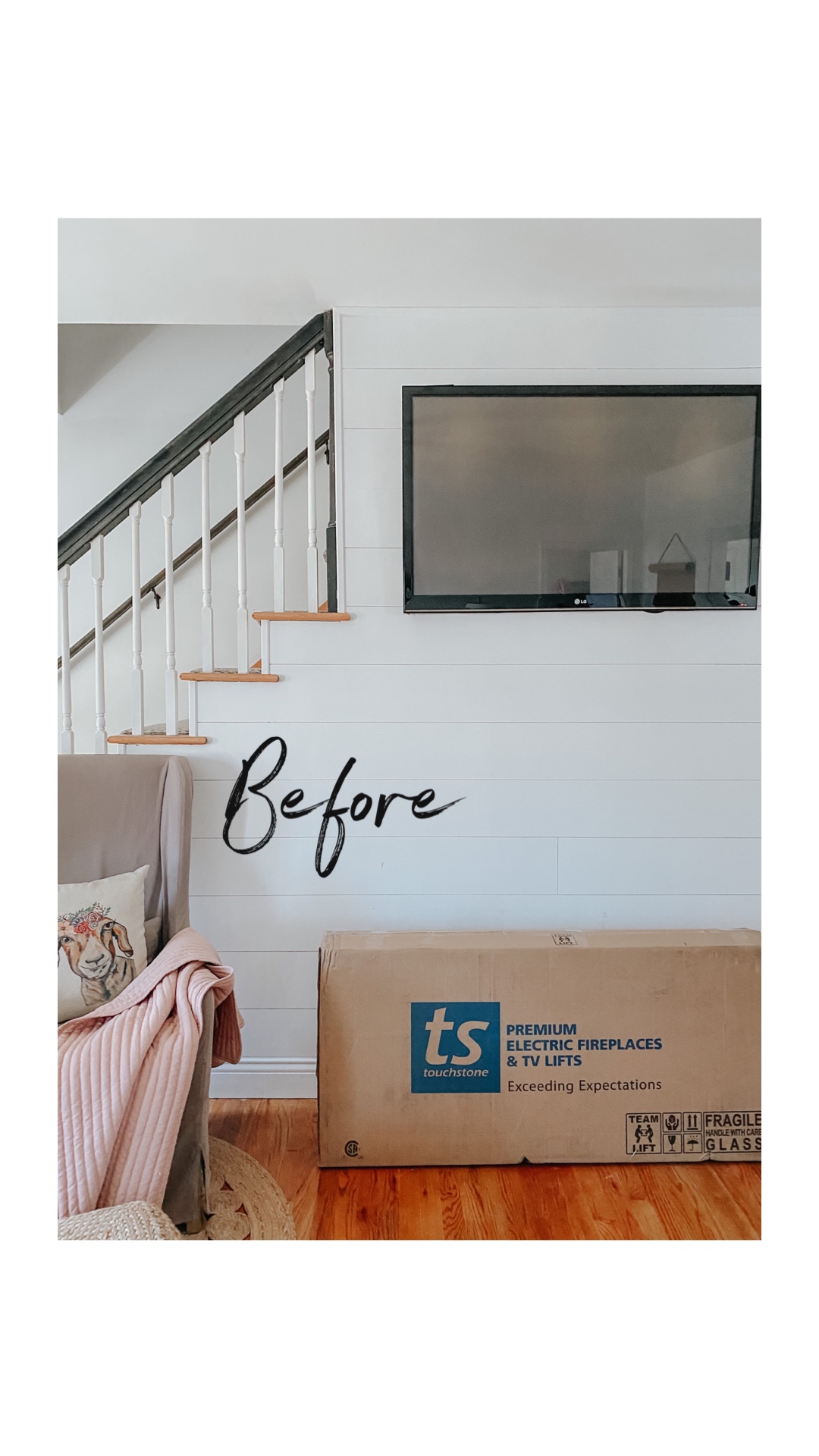 We wanted to add this unit under our tv on our stair wall to give the feel of a fireplace.  Our vision is to keep everything simple and clean, really accenting the fireplace.  I didn't want anything to take away from the firebox.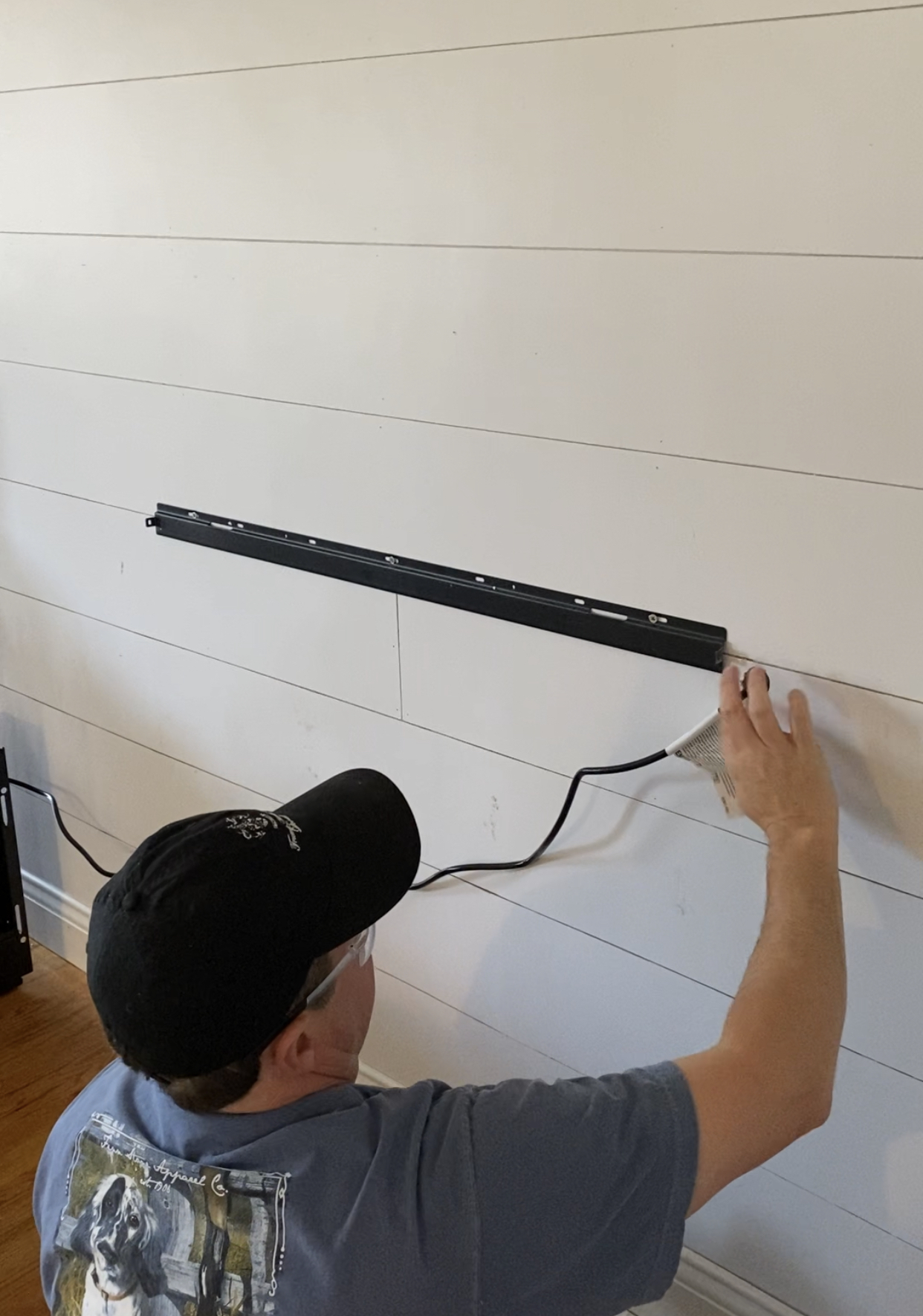 We found the studs as well as the center mark.  The unit comes with a mounting strip.  We secured it to the wall hitting all 3 studs.  It's recommended to hit 2 out of the 3 studs.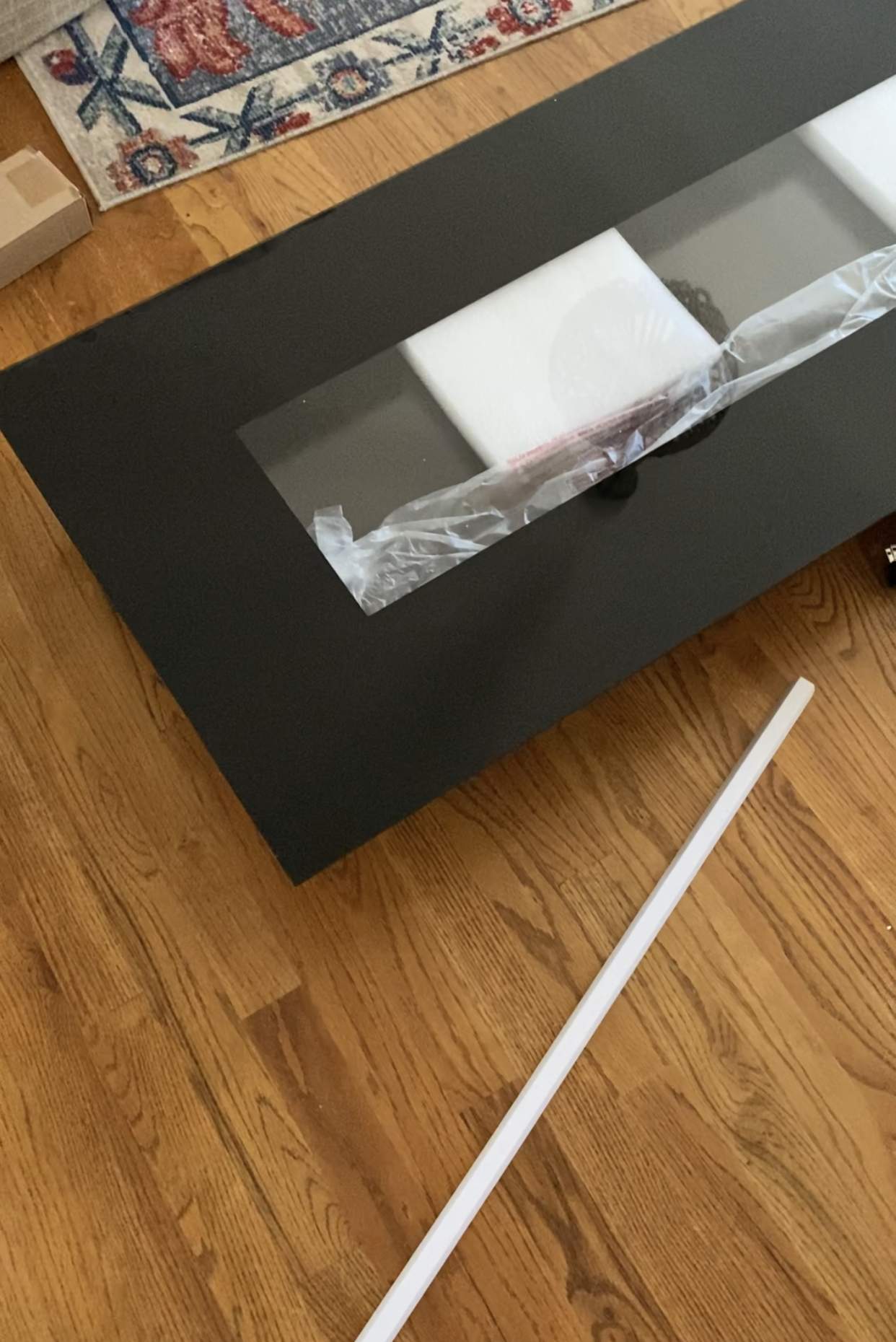 Since the fireplace is electric it comes with a cord to plug into the nearest outlet.  A cord cover is included (pictured above) with the unit to make it easier to hide the cord.  In our case, we simply drilled through the wall and fed the plug through to our closet outlet.
This step is optional but since we had an outlet hidden close by, we chose to hide it that way.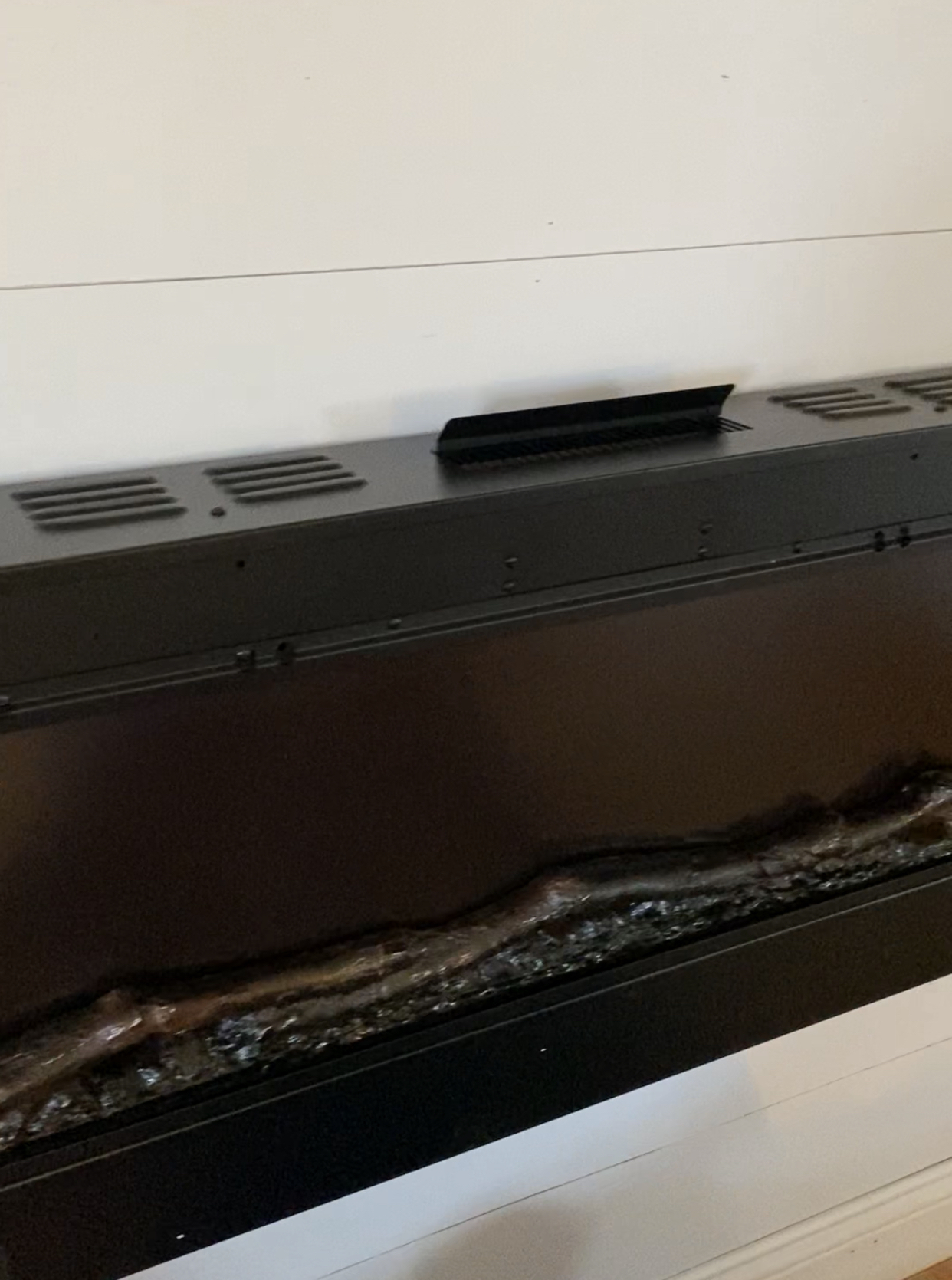 We chose not to recess the fireplace since we want to use the heat feature.  You can recess it and build out a surround, but you will not be able to use the heat function.  You have a choice to pick the logs or the rocks for inside the firebox.  We chose the logs for a more rustic vibe. 
Are you ready for the reveal?!?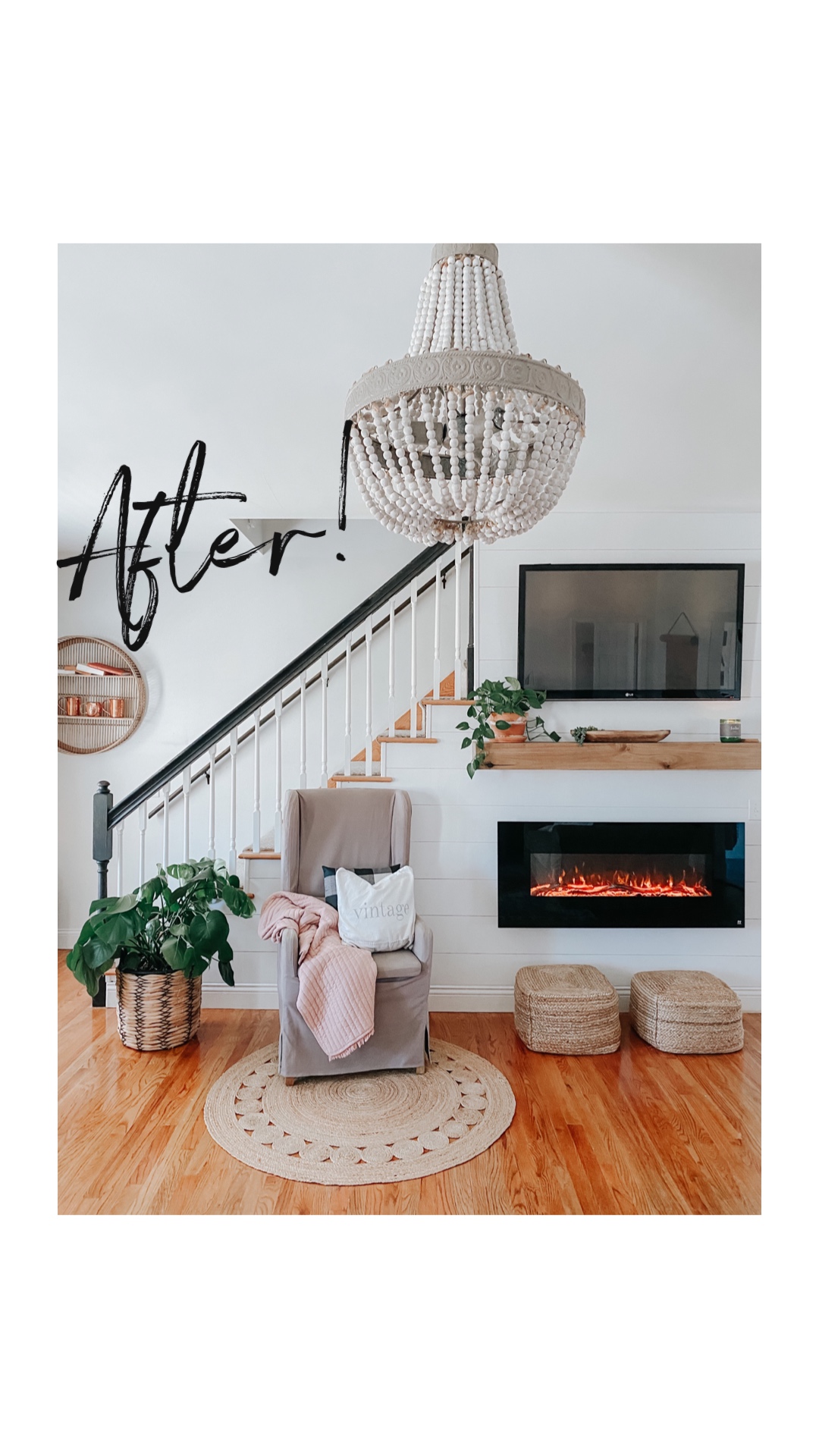 Linking up the Touchstone Onyx 50″ wall mounted electric fireplace here.  Use code SWAG10 for 10% off of this unit!!! Thank you Modern Blaze for the coupon code!!
If you are interested in seeing some video shots of unboxing and installing this beautiful fireplace please visit our Instagram feed here.
What do you think about this space? Let's chat in comments! 
Sources for this space are linked here.
*The links via the shop tab are affiliate links (does not cost you anymore or any less to buy from these links).