Timeless unforgettable advice!  Designer wisdom!  It is hard to know what works in a space.  Here are a few easy tips to remember when designing your next space:
Ditch the fake greenery!
Always always have fresh flowers on hand!  Bring life into your space.  AND less is more.  If the top of a cabinet is the problem,  add a vintage basket, something that could be used for storage later.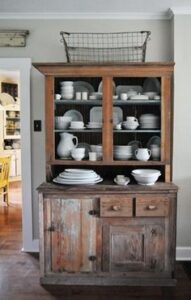 Photo credit: Pinterest
Matchy Matchy!
Make your room sing by ditching the bedroom suite or living room suite and mix and match AND mix styles.  Make your kitchen island or bar stand out by using a different color or use different throw pillows on your sofa and lose the ones that came with it.  Apartment Therapy has a great example of a living area makeover.  Thank you AT for your interior inspiration!!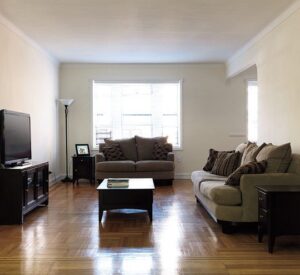 Photo credit:  Apartment Therapy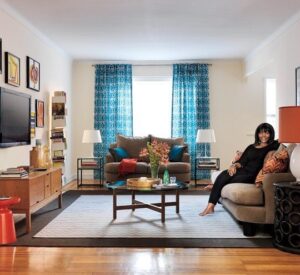 Photo credit:  Apartment Therapy
Grouping in Even numbers!
Grouping in even numbers tend to look "staged", "stale", or even "cold", 3 seems to be the magic number for interior designers but the rule also applies for  groups of 5 and 7.  AND designers are not the only ones that follow this "rule" so does architects and photographers ;).  For me this mostly applies to accessories.  Balance out each area with lamps, stools, or a bench to add symmetry to the area.  LOVE how the space below has odd accessories without losing the symmetry of the space!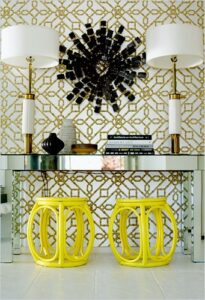 Photo credit: Remodealholic
There you have it!  Easy tips to follow and look for in every space!!  So, what space are you going to "REDO"?  I want to know how I inspired you!  Post your coffee table, bookshelf, end table, ect. to Instagram and tag @interiorswag in it letting me know how we helped you.  Whatever space you have in mind, snap a finished pic and post it, I just may share your interior swag with others! Follow Interior Swag on Facebook, Instagram, and Twitter for design projects, GIVEAWAYS, and interior inspiration..Happy Designing!