Renting? How to make the space your own..
I have had some inquiries about how to make rental homes look and feel like HOME while staying within the landlord's rules.  Being a renter myself, this can be challenging.  First step is to talk with your landlord to see what you can/cannot do.   So, now I am going to give you a few tips to make your rental home aesthetically pleasing and welcoming while bringing out your personality.
1 – Paint
Typically,  the landlord doesn't want you to change the wall color so improvise by adding a POP of color by painting a statement piece of furniture!  You can paint anything from a small accent table to a large dresser to make a statement in your space.  You can see below, I chose to paint a dresser to add some color to my space.  Thank you Pinterest for your never-ending interior inspiration!  The small table is from Pinterest.  It may be small, but is sure makes a statement in your space!  What can you paint to add color to your space today?
2 – Art
Don't be afraid to add artwork to your walls.  Easy easy fix (on move out day)  with a little putty and paint, and you will thank me later;).  Art isn't just about a painting someone painted.  It can tell a story, YOUR story.  Mix it up.  Mix different prints with your family photos and mirrors = your perfect gallery wall.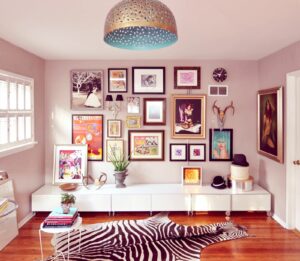 Photo Credit: Pinterest
3 – Accessorize, Accessorize, Accessorize
This tip goes with the first 2 tips!  You can add color as well as tell your story in how you accessorize.   Add fun rugs, colorful vases, books, throw pillows, anything that brings out your personality.  I personally adore neutral walls, then you can add color through accessorizing your space.  It is easier to change the look of your space by changing the accessories rather than re-painting ;).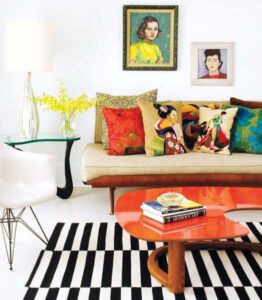 Photo Credit: Pinterest
4 – Drapery
This tip is #1 in my opinion!  Adding drapery is the number one way to give your space the "homey" feel.  BUT make sure it's full length drapes, ditch the valances!  Add full length drapes especially in your common areas (living, dining, ect.)..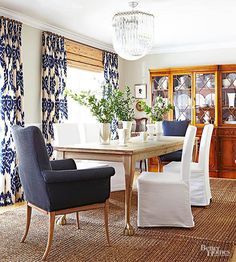 Photo Credit: Better Homes & Gardens
5 – Be Thrifty
DO mix quality with frugality!  Do combine newer lavish items with secondhand furniture.  Thrifty finds are great pieces to transform into statement pieces!  AND do not forget about your parents attic.  You are sure to find some hidden gems there! I love the use of old  shutters as wall art, what a clever idea.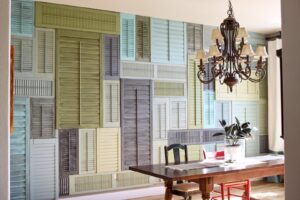 Photo Credit: Pinterest
I hope this blog post helps you get motivated to feel better about your space.  Your rental CAN tell a story and bring out your personality.  Your home environment sets your mood.  Feel good about yourself and be encouraged today!   You do not have to have the newest nicest "stuff" out there to make your space awesome!  Stuff doesn't matter!  It is the story behind it that counts.