Can you believe this year is almost over?  My favorite holiday is Christmas so I naturally have more Christmas decor than any other holiday.  I've teamed up with some talented Instagram buds to bring you a fun blog hop! It's all about Christmas tablescapes and I'm so excited to share mine with you guys!  Links to the other ladies blogs are attached at the bottom!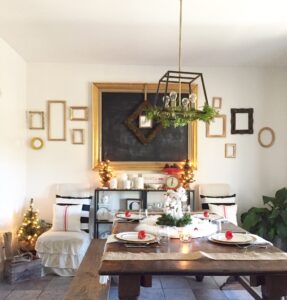 I literally used dollar tree items mainly for this Tablescape! My chargers and candle holders are from dollar tree!  I also pulled from my decor in other rooms as well.  I want to keep my decor simple this year in each space.  Simplicity is what I kept in mind as I was styling my Tablescape.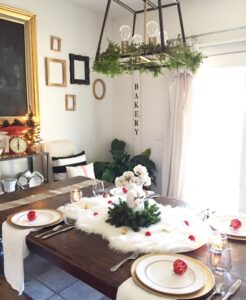 I used flour sacks for napkins & yes, that's a rug for a centerpiece.  I used a wreath around a few vases, put a little cotton in vintage milk glass to make the centerpiece.  I cut fresh cedar from my parents yard to dress up the light fixture.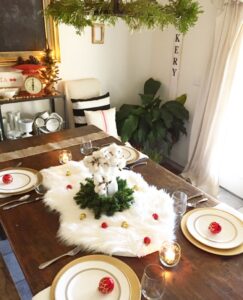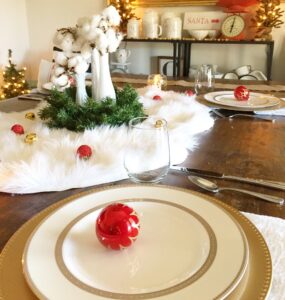 I added a little color by using these vintage ornaments.  My mother gave these to me last week.  They were my grandmother's so they are very special to me.  I hope this little blog post encourages you.  You can make your Tablescape beautiful on a fixed low budget.  My favorite budget savvy tip is to pull decor you're using in other spaces and style your table!  Share your Tablescape with me by tagging me on Instagram and don't forget to hop over and visit my inspiring friends here below: