It finally feels like fall here!  It's my favorite season!  Porch sitting weather I call it ;).  I wanted to share my fall dining area WITH sources!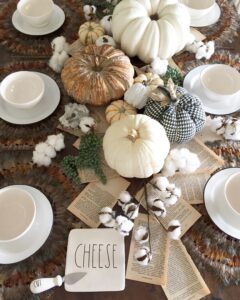 My most asked question is where are the feather placemats from?!? Here is a link to very similar ones from Amazon!
I also love using real pumpkins, but this year I mixed faux with real.  Can you tell which are real which are faux?!?
The plates are vintage enamelware.  You can find these usually at any antique store or even at some thrift stores!
The bowls and the cheese board are Rae Dunn, and well you know how hard that stuff is to find.  I get asked all of the time where I find my pieces..  My tips for everyone who are just starting out would be:  shop at your local TJ Maxx, Homegoods, and Marshalls.  I know finding pieces in these places are not easy.  Join RD groups in your area over on Facebook, shop Mercari app, and eBay. Sometimes you can find a seller who isn't outrageous on their pricing.  Be careful, just because it says "Magenta" on the bottom doesn't mean it's RD.  Magenta makes for tons of designers.  I see this often even in the Facebook trade groups.  As for me, I've been collecting for 3 years and it started with 1 coffee cup.  I'd love to have them all!
The houndstooth pumpkin is from one of the small shops over on Instagram.  I'll link her Etsy shop here:
You can find the greenery and cotton stems at your local hobby lobby.
I used vintage book pages for the feel of a runner.  That's mainly it, sometimes it's hard for me to link sources because I frequently shop resale, thrift and antique stores, and yard sales!  A tip I'll leave with you when styling a table setting:
Think outside of the "traditional" way of styling.  Meaning you don't have to have everything out on the table.  You see I didn't put glasses, napkins, or silverware out for the picture.  I cut the clutter ;).  Start with a little texture, then layer from there.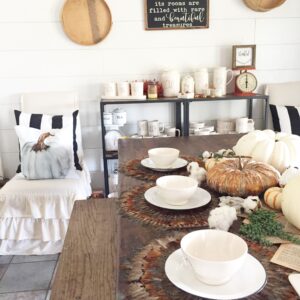 Oh and I can't forget the link to the pumpkin pillow cover.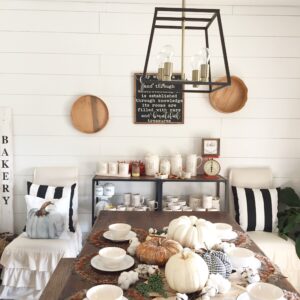 I hope you have enjoyed these tips and links!  Please share your spaces using the hashtag #interiorswag over on Instagram!